Banana sushi is one of those snacks in my mom toolbelt that is always a home run. My kid happily gobbles down this simple snack and this simple peanut butter and banana snack sticks with her a little longer. Have a kid coming home from school starving? Make this banana sushi for a simple but quick and easy snack that keeps them full.
Banana Sushi- A Super Quick Kid's Snack

*This post may contain affiliate links to products we love, which means we get a small commission if you decide to purchase. Thanks for your support!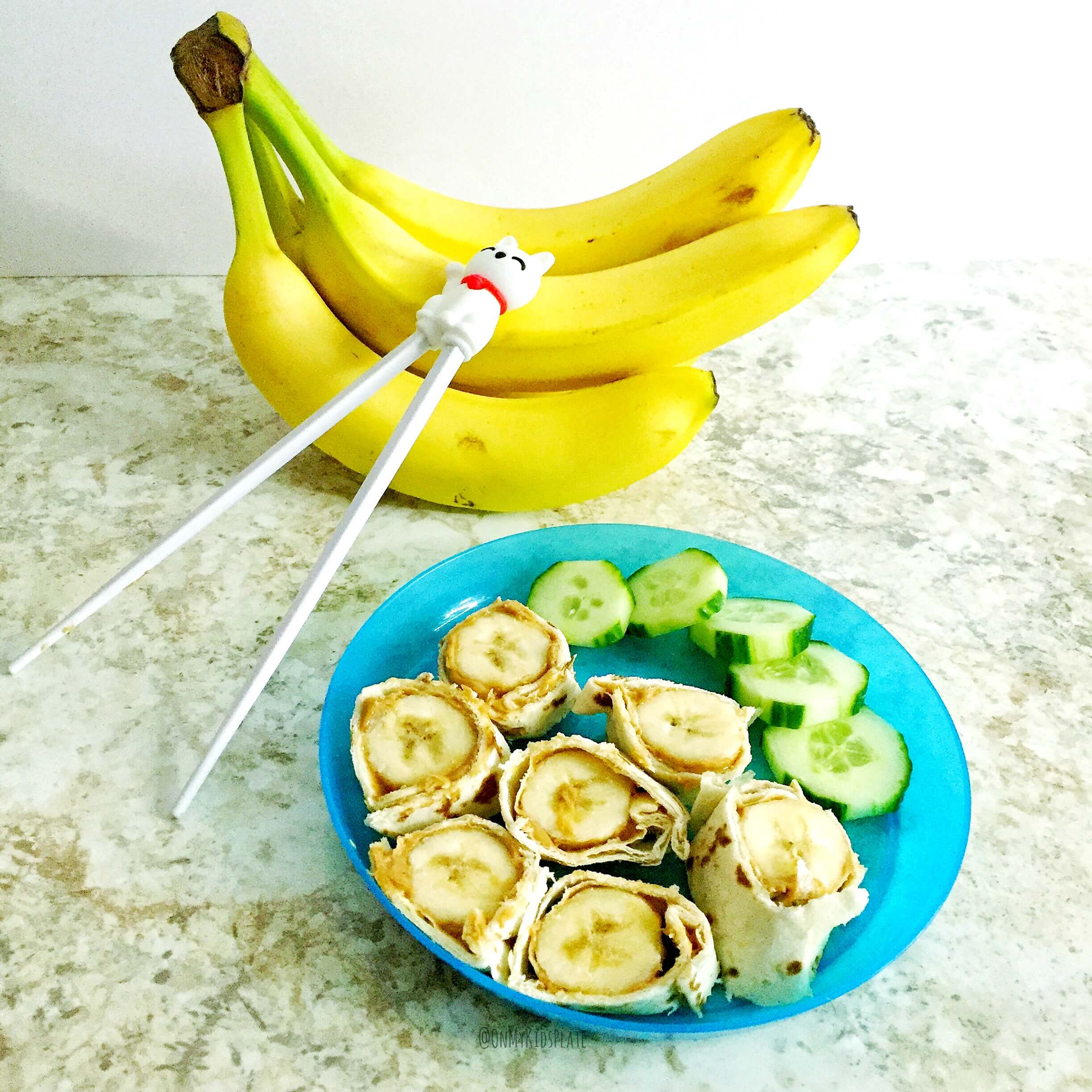 Peanut butter at our house tends to be something we have at home but is a definitely a staple in many kid's diets.
I've heard the combination of peanut butter and banana called "The Elvis Presley" before because one of Elvis' favorite treats was a banana and peanut butter sandwich. (Sometimes he added bacon, I'm not sure how I feel about bacon and peanut butter together!) No need to fry with this easy no-cook snack. I bet you could have this snack on the plate before your kid can even turn up the music.
This is also a great snack for busy nights when we have sports or other activities. The kids can have this by itself after school or you can add a few more sides like raw veggies and fruits, crackers, yogurt and whatever else you have on hand in your fridge. (Try a sprinkle of my homemade crunchy cranberry maple granola in this banana sushi snack, delicious!)
If you happen to have a pair of kid-sized chopsticks it makes things even more fun. (and perhaps interesting depending on how skilled they are!) I bet your kid would love trying to pick up their sushi pieces with trainer chopsticks, mine does! Here are the cute cat chopsticks we have.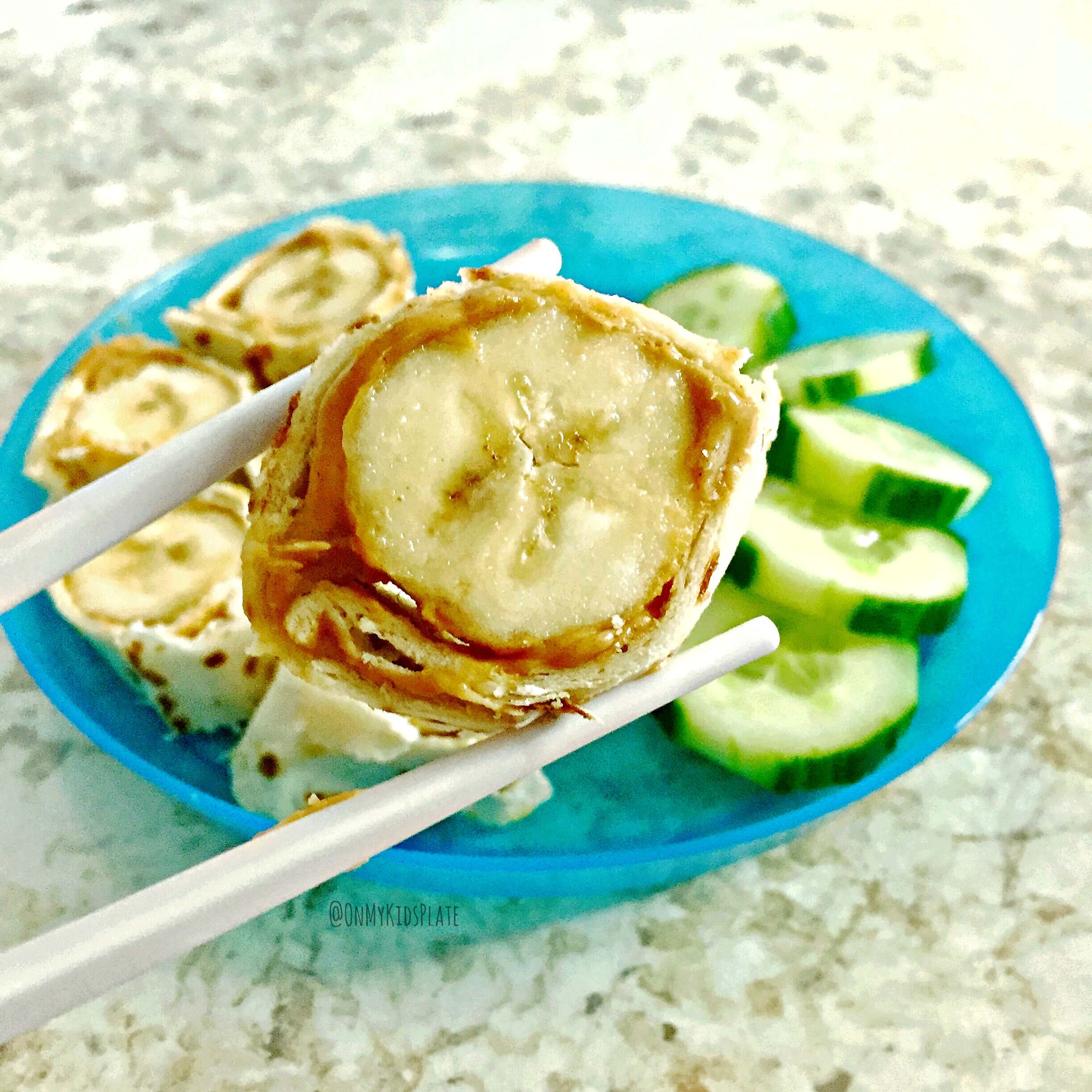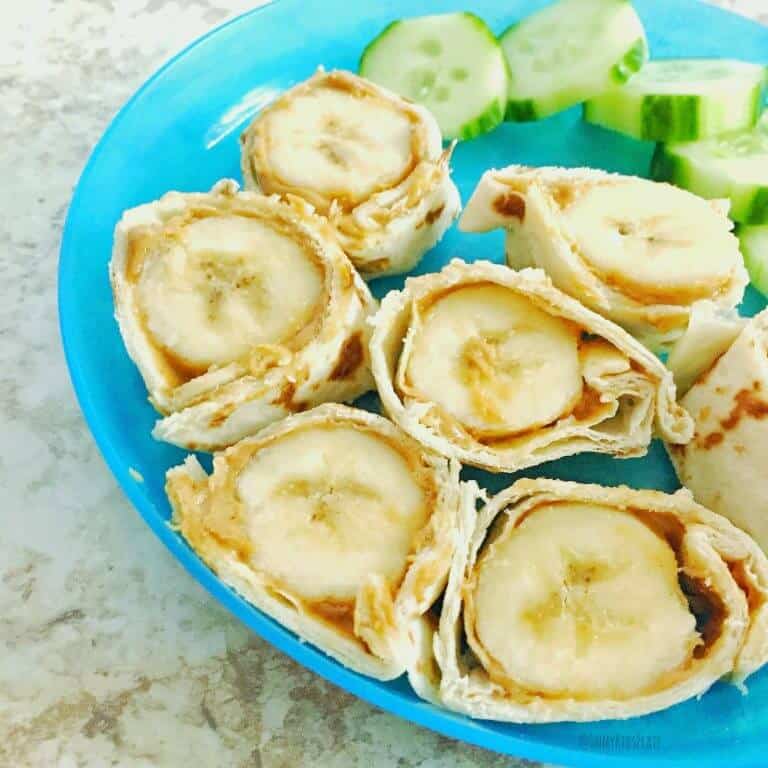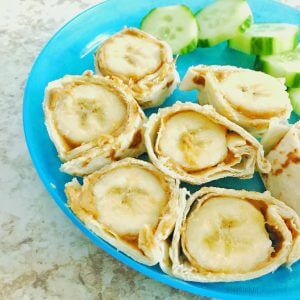 Banana Sushi- A Super Easy Kid's Snack
Ingredients
1

Small tortilla

2

tbsp

Peanutbutter, nutbutter or nutbutter alternative

1

Banana
Instructions
Lay tortilla on the plate. Spread peanut butter all over the tortilla.

Peel banana, then place on the edge of the tortilla on top of peanut butter.

Roll banana in a tortilla and peanut butter so that the tortilla covers the entire outside of the banana. The peanut butter will stick to the banana holding your roll together.

Now slice your snack into rounds. Enjoy!
When I made this post, I made more than one banana sushi for photos and such. My kid gleefully gobbled every single one (sometimes I had insisted she not grab one from the plate while I was taking the pictures. Can you see that in the photos? Ha!)
This ended up being dinner that night for her. I would say that's a hit, and maybe she needed someone to share that with for next time!
Recipes You Will Love
No Bake Peanut Butter Oatmeal Snack Bites
Banana Applesauce Mini Muffins
Three Ingredient Banana Popsicles
No Bake Chocolate Chip Energy Bites
So have you ever tried making banana sushi? What are some of your favorite quick kid's snacks?