Move over granola bars, these no bake chocolate chip energy bites are in town. So many tiny kids have trouble making it all the way through a big bar, that a fun little ball like this can be a great bite-sized snack. Even better they don't require any time in the oven and are super simple to make with just a few simple ingredients.
No Bake Chocolate Chip Energy Bites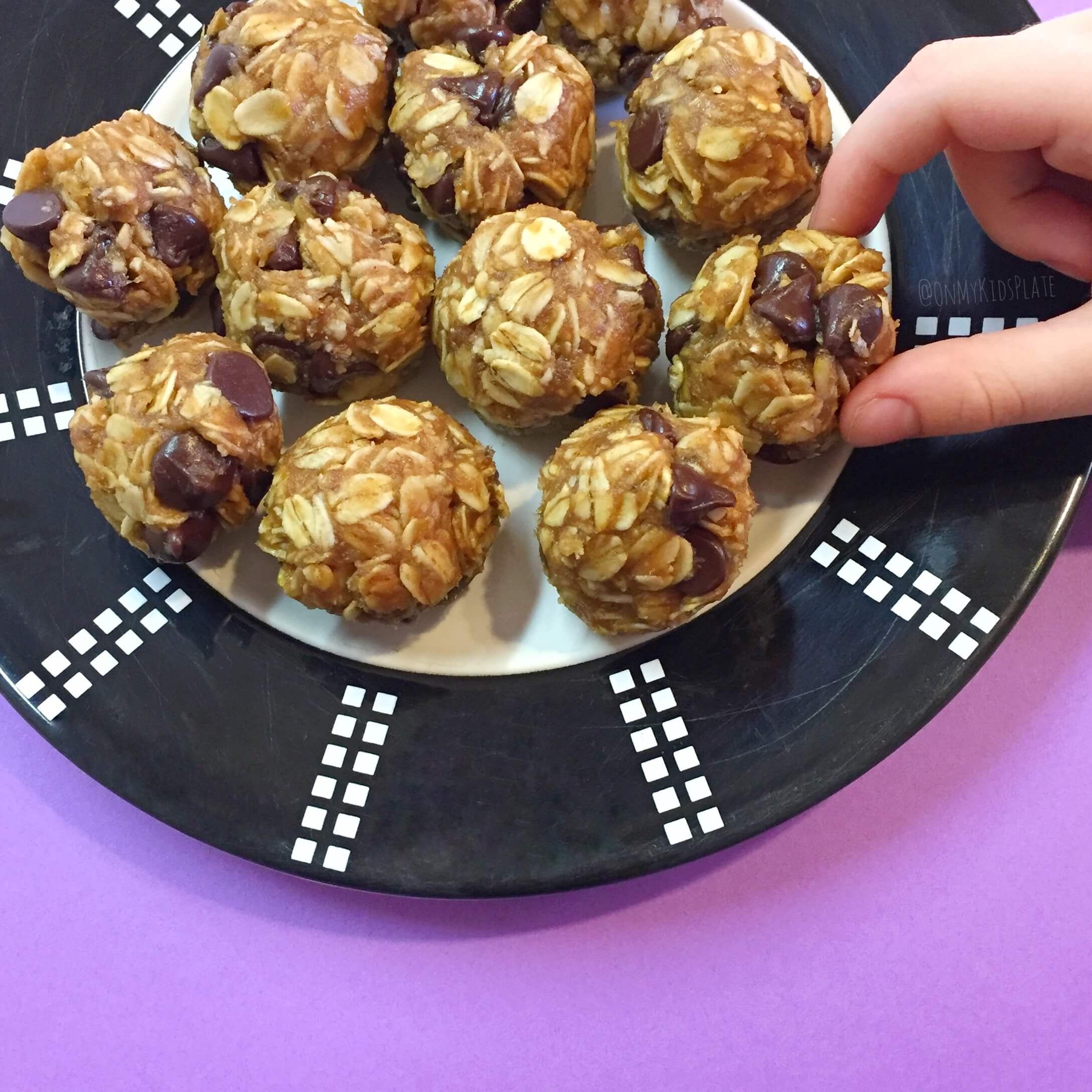 So in our kitchen, the kid has been asking to help more often. She has always been welcome in the kitchen, but lately, she wants to get up in the sink to rinse in the colander, peak more in the stove and get right up there in the bowl where I'm mixing. She's always welcome to watch and most of the time welcome to help, but it can be a bit nerve-wracking with a kid underfoot. Take your time and go easy on the recipes, which is where these no-bake chocolate chip energy bites come into play.
One of the prized kid jobs in the kitchen? It's without a doubt mixing the bowl. Sure cracking eggs is fun, but that only lasts for a minute or so. Mixing the bowl is where the real magic happens, and where the recipe starts to become magic in the bowl. That magic doesn't happen though without a little mess on the floor and the counter that I'll be cleaning until next week. I'd like to say I'm super patient in the kitchen, but I'm not always. It's hard when you need to cook quick or they just aren't listening and are dancing by the stove sometimes. But I've been trying to make more of an effort to cook together. This is a great recipe to make together, plus the banana and peanut butter snack combo? Delicious!
Pssst, love the banana and nutbutter flavor combo?
My Banana Sushi is another easy snack idea for kids!
One more thing! While we do reach for the packaged bars in our house sometimes, mixing it up between packaged and homemade will bring lots of smiles, and these no bake chocolate chip energy bites also freeze nicely so make'm in a big batch! 🙂 Chocolate chip energy bites for dayssssss I'm telling you!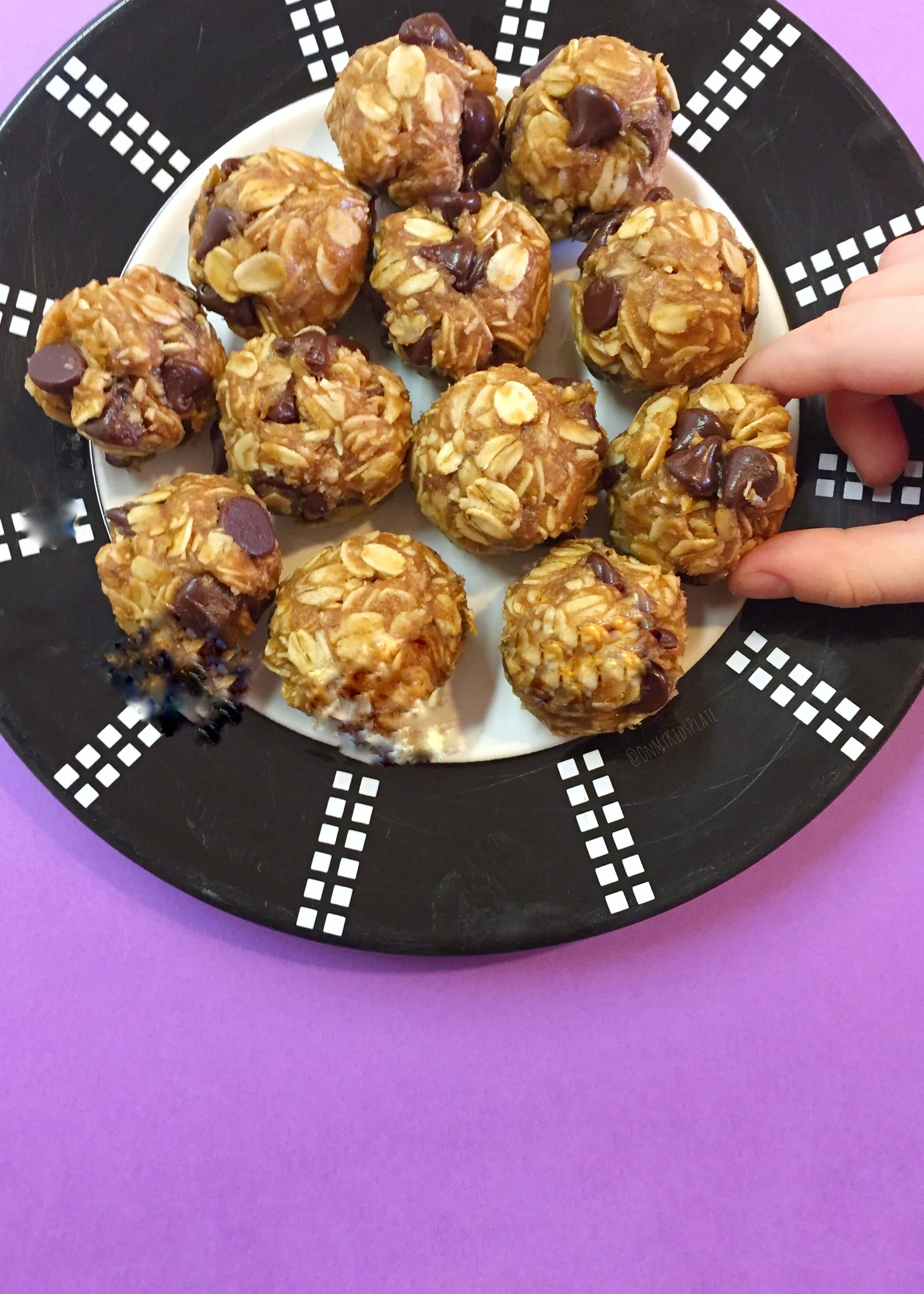 No Bake Chocolate Chip Energy Bites
No bake chocolate chip energy bite are a great sweet dessert or snack for lunchboxes after school or a sweet little pick me up. Make a big batch of these and freeze, you'll thank me!
Ingredients
1

banana

.5

cup

peanutbutter or nutbutter alternative

.25

cup

honey

1

teaspoon

vanilla extract

2

tbsp

chia seeds

This is optional, but packs a little extra nutritional punch!

1.5

cups

oats

1

handful

mini chocolate chips
Instructions
Mash banana with the back of a fork, taking care to break apart any chunks. Then add to bowl.

Add peanut butter, honey, vanilla extract and chia seeds. Stir until mixed well.

Now add oats. Stir until completely coated in wet ingredients.

Roll into round balls about the size of a ping pong ball.

Chill in the freezer for 20-30 minutes to set, or in the fridge for minimum an hour.
Recipe Notes
Makes roughly 24-30 bites. Bites can be eaten right away, but for best results chill in the freezer or fridge for a minimum of 20-30 minutes first. Store in an airlocked container for 3-4 days, or freeze for later!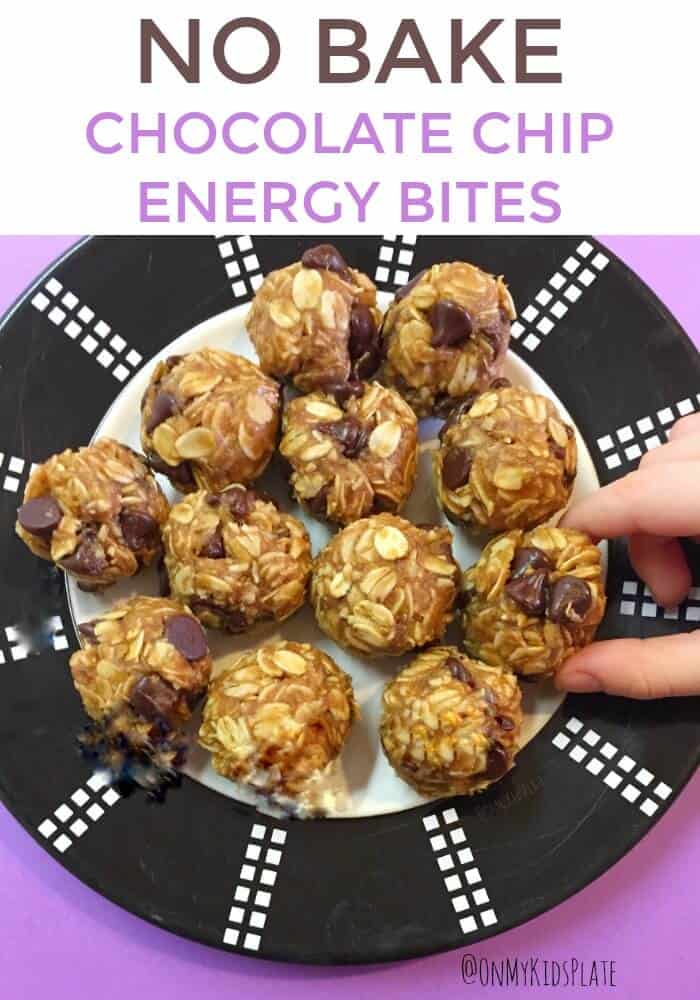 So have you been on the energy bites wagon or are you more of a bar family? What other flavor combos would you like to try?