Lean and packing tons of flavor, these easy oven baked meatballs made with lean pork and zucchini is a well-loved recipe, and it's more than just my family. These meatballs come together quickly on a weeknight, or you can also make and freeze these pork meatballs ahead for an even faster weeknight dinner. I'll tell you all about how to make these meatballs, how to prep them ahead to make a fast meal even speedier, and how to make sure your meatballs are juicy and delicious.
Easy Oven Baked Pork And Zucchini Meatballs Recipe
*This post is sponsored by the Ohio Pork Council, but all opinions are my own.
I've been making these lean pork meatballs for years, literally years and they have always been a hit. People have been chasing me for the recipe. I've served them at my daughter's birthday party twice and each time I had requests for the recipe. Each time I've promised it to people and still never written it down. (Sorry Aunt Lyn!) Until now…. I've made a couple different variations on this recipe, but this version is the all-time favorite.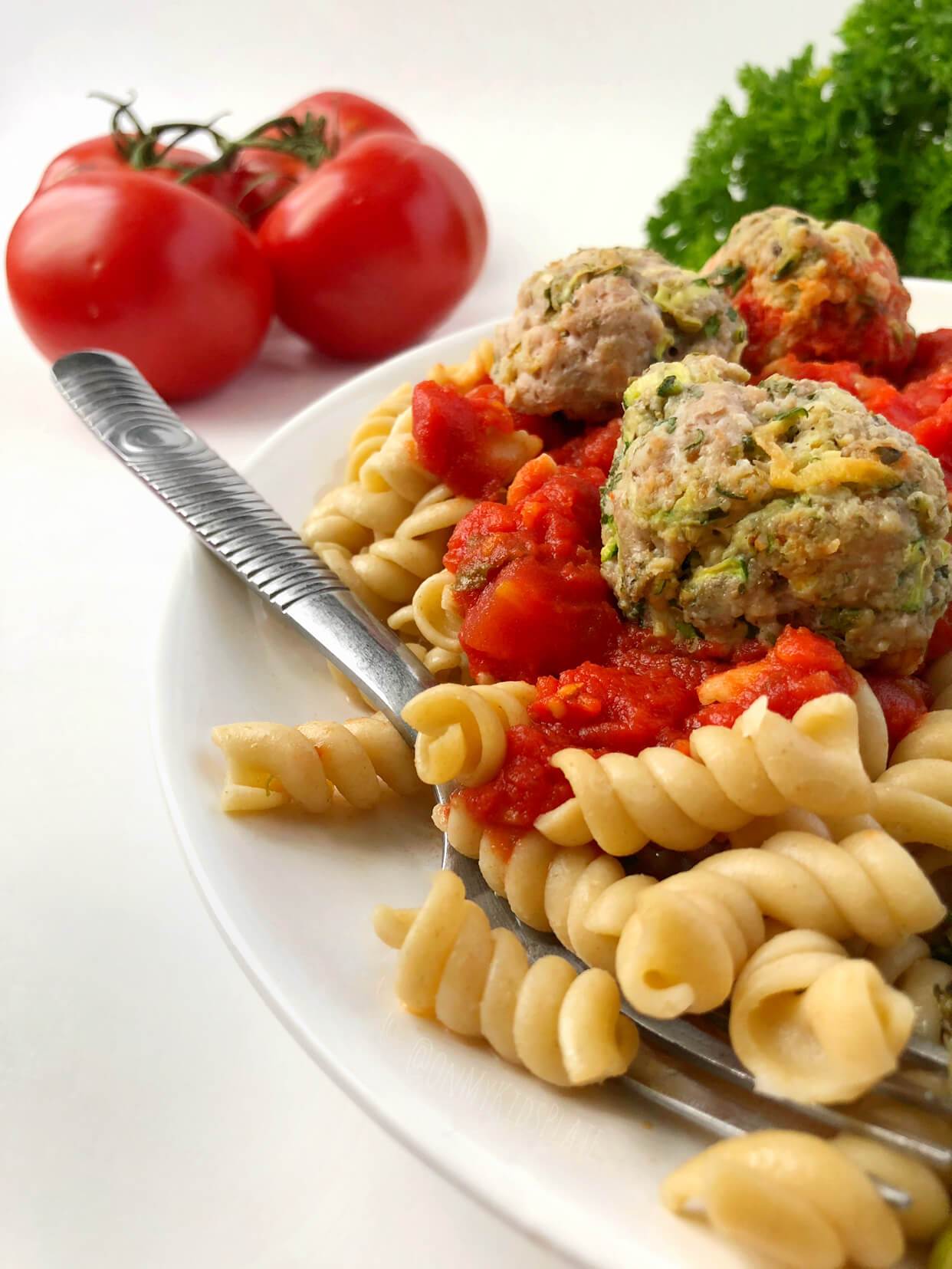 I've added zucchini to this meatball as it both adds extra moisture and bulks up on the veggies. While I don't hide veggies from my family or child, I have hidden the zucchini in these meatballs before. Now you're all wondering who I made sneaky meatballs for right? I'll never tell, ha! Simply sauté the zucchini until it becomes soft and almost translucent, about 5-10 minutes. Then add it to your meatball mix and you can't even tell it is there. This especially works well if you make and freeze this oven baked meatball recipe for your freezer stash for a quick weeknight meal.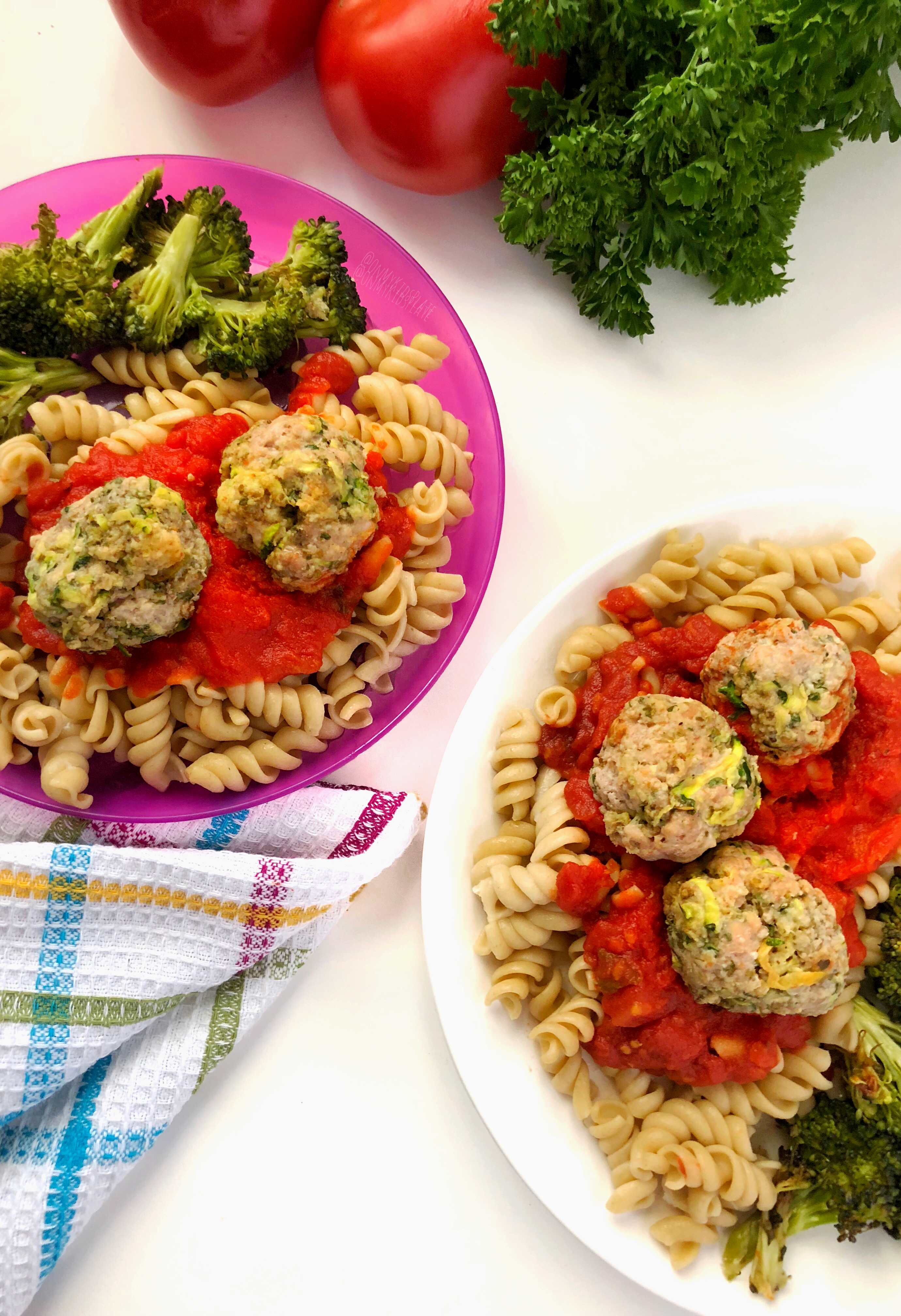 What Meat Should I Use In These Meatballs
So one of the tricks that turns this meatball from good to wow is to use extra lean ground pork. Many meatballs call for other types of ground meat, and while I enjoy some of them, I've found using lean ground pork makes a super flavorful meatball. I prefer to get pork tenderloin if I can, and the meatballs always come out moist and delicious with this recipe.
How To Find Extra Lean Ground Pork
I've found many stores stock regular ground pork, but I don't always find the extra lean variety. Ask at your local meat counter for them to grind it fresh for you. I've never had an issue at a butcher, and most grocery store counters will do it for you as long as it's not late at night. I always specifically request tenderloin. It ends up being a very affordable option also.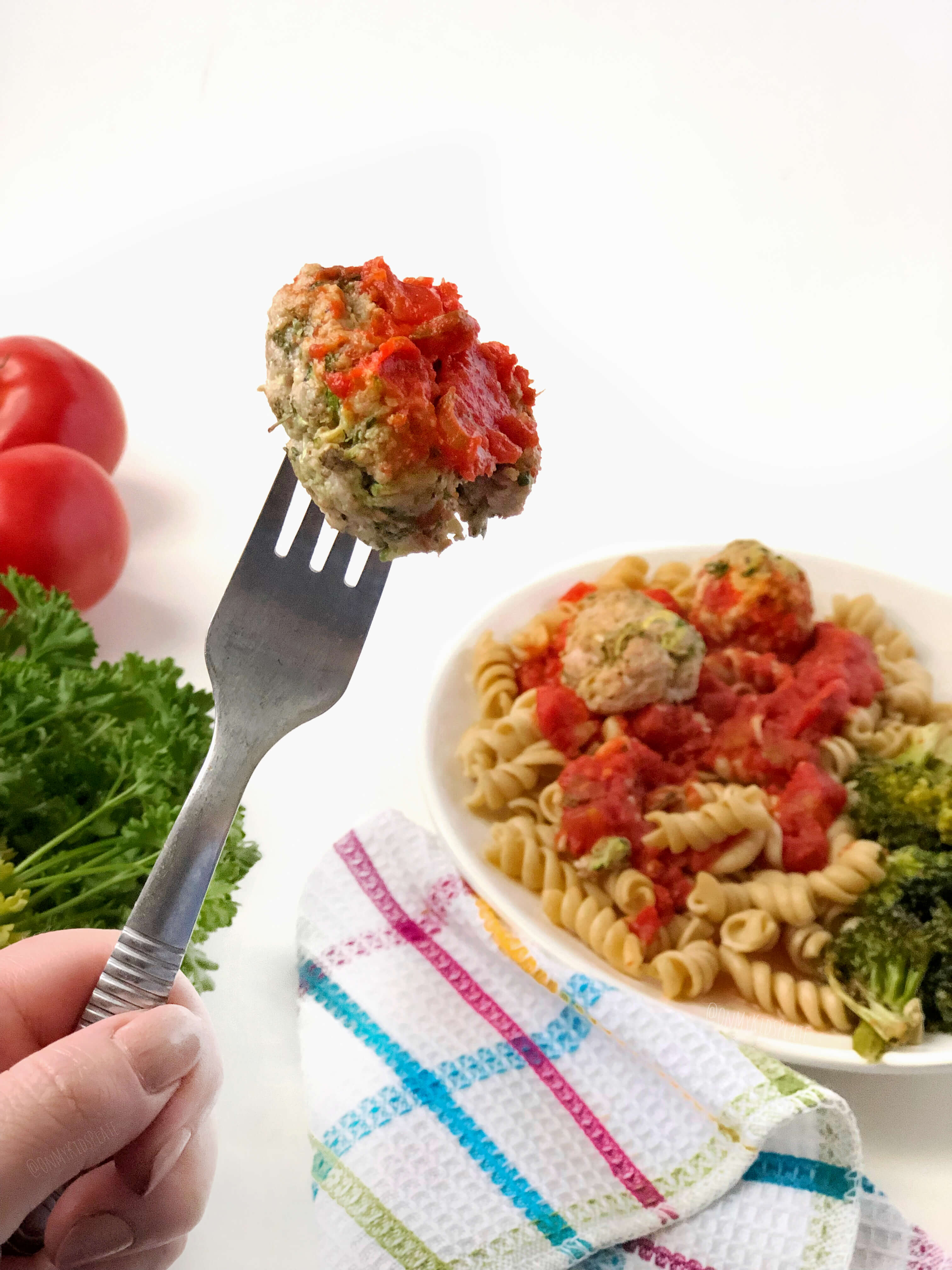 How Do I Make This Ground Pork Meatball Recipe Even Faster?
These meatballs are quick enough to make on a weeknight. I've included directions how to cook some broccoli on the same pan, so all you'd need to add for dinner is some jarred pasta sauce and cooked pasta. They come together in about 30 minutes total if you shred the zucchini with a food processor.
But if you want to make these meatballs go even faster? This recipe freezes like a dream. I double the recipe, bake them, and then freeze them on a cookie sheet. Store these oven-baked meatballs in a freezer container, you can then easily grab a few (for a quick meatball sandwich) or a dozen for dinner. Pop the frozen meatballs in a little pasta sauce on the stove, and they are done in about 3-4 minutes or until they are warm all the way through.
Looking for another fast idea for dinner? My good friend Deanna over at This Farm Girl Cooks has a super Easy Pork Stir Fry the whole family will love. The recipe even uses frozen veggies for busy nights!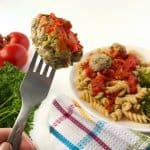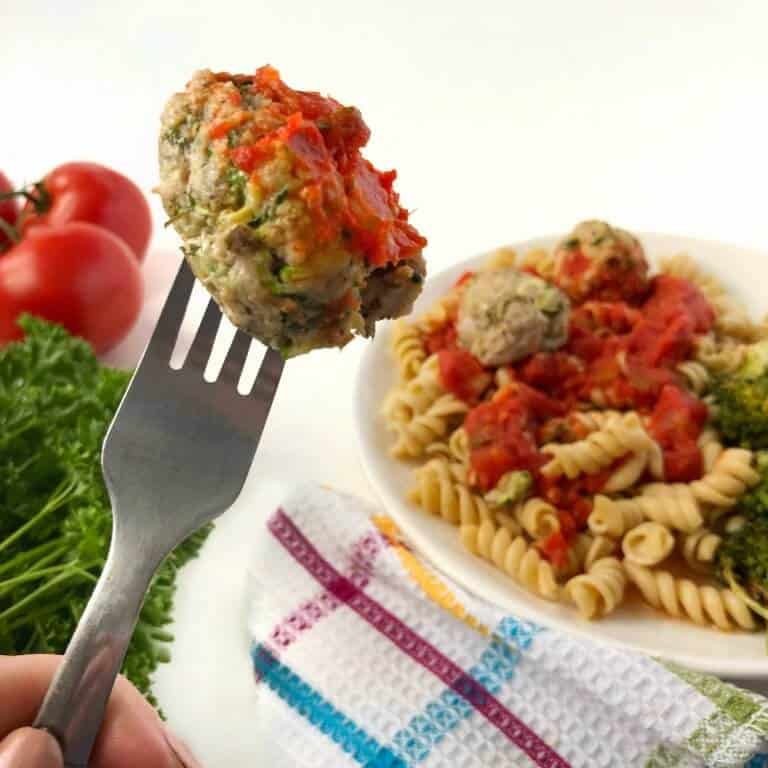 Easy Oven Baked Pork And Zucchini Meatballs Recipe
Ingredients
Meatball Ingredients
1

large

zucchini (shredded)

1

pound

extra lean ground pork

1

large

egg

1

cup

breadcrumbs

Can use panko bread crumbs, which makes it gluten free.

1

tablespoon

oregano

1

teaspoon

salt

½

teaspoon

pepper

1

tablespoon

parsley

1

teaspoon

granulated onion

(or powdered onion)

1

teaspoon

granulated garlic
Roasted Broccoli Ingredients (optional side)
1

medium head

broccoli

2

tablespoons

olive oil

1

tablespoon

oregano

1

teaspoon

garlic

1

teaspoon

salt

1/2

teaspoon

black pepper
Instructions
Directions For Oven Baked Meatballs
Preheat oven to 400 degrees.

Line a baking sheet with Shred zucchini finely either with a food processor or a cheese grater.

Using a clean kitchen towel or paper towels, remove all excess water from the zucchini. You want to remove as much liquid as possible for best results.

Add lean pork to a large bowl, and then add zucchini, egg, breadcrumbs, and all of the spices. Mix well until combined. For best results mix with hands briefly.

Roll meatballs into one inch balls and place on baking sheet. If desired, add broccoli onto the same pan.

Bake for 17-20 minutes or until meatballs are cooked all the way through and no longer pink.
Directions For Roasted Broccoli
Chop broccoli into bite-sized florets. Add broccoli florets to the baking sheet.

Sprinkle spices, then oil over broccoli. Mix briefly with hands.

Cook on the same sheet as the meatballs, 15-20 minutes stirring once halfway through. Serve with meatballs.

Recipe Notes
This recipe makes 16 to 20 meatballs
Tips:
Ask at the butcher or meat counter for extra lean pork for a super flavorful meatball.
Dry the zucchini with a kitchen towel or paper towel to remove all excess moisture and allows your meatballs to form much better.
Cook broccoli on the same pan in the oven and your vegetable side for dinner is finished at the same time!
I hope you enjoy this pork and zucchini oven baked meatball recipe as much as our family does. Have you ever made homemade pork meatballs before?