This quick weeknight chicken sausage and veggies recipe keeps me from staring at the refrigerator wondering what to make for dinner.  A good ol' sheet pan recipe like this is easy to throw together with just a few ingredients. At our house is a favorite with my family and I like that I can throw most of the meal on one pan and cook it up fast. This is also a super easy meal to prep ahead of time and reheats easily if you cook ahead for the week. Your family is going to love this recipe!
Quick Weeknight Roasted Chicken Apple Sausage And Veggies Recipe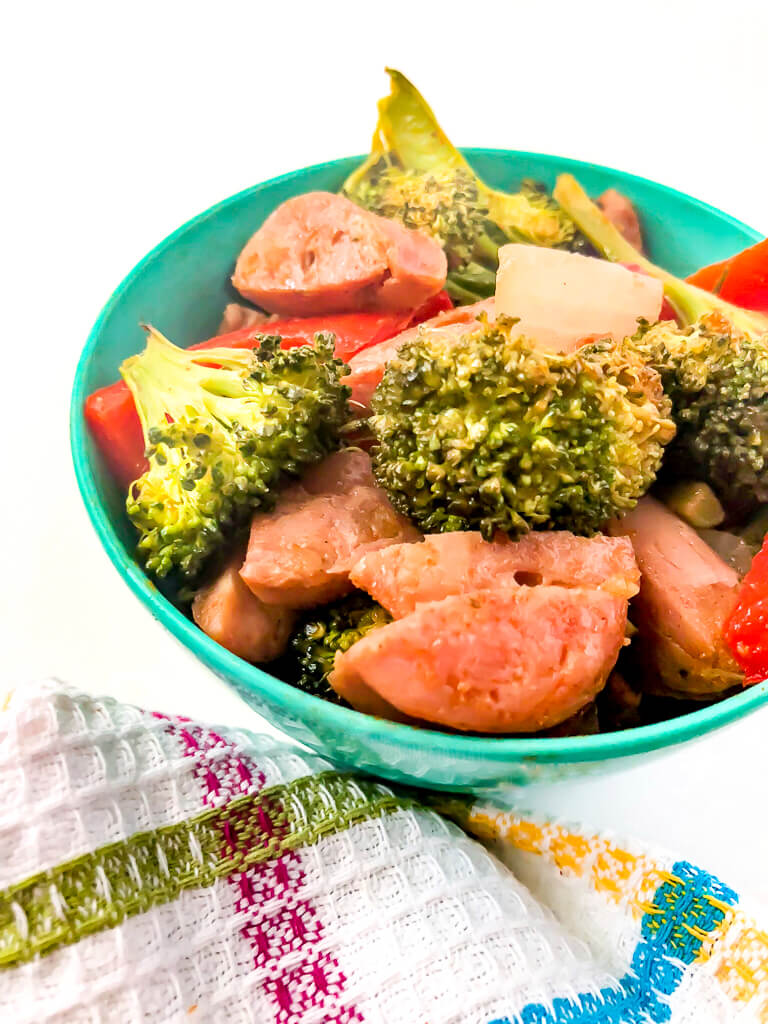 I used to always slice and cook chicken apple sausage on the stovetop. I'd slice, spice and then spend another twenty minutes stirring the skillet and making sure everything heated through. You know, while the dog barks outside, the kid is crying and you're balancing eighty-five other things on your shoulders. Nah, that's not the way to go.
Related: Easy Oven Baked Pork and Zucchini Meatballs Recipe
One day I saw online someone had thrown everything oinone pan and cooked. Score! Roasting was already my favorite way to cook fresh veggies for my family. The flavor always comes out so nicely and we love our veggies often with a bit of crunch. Not so crunchy it's raw or anything, but not mashed potato soft either.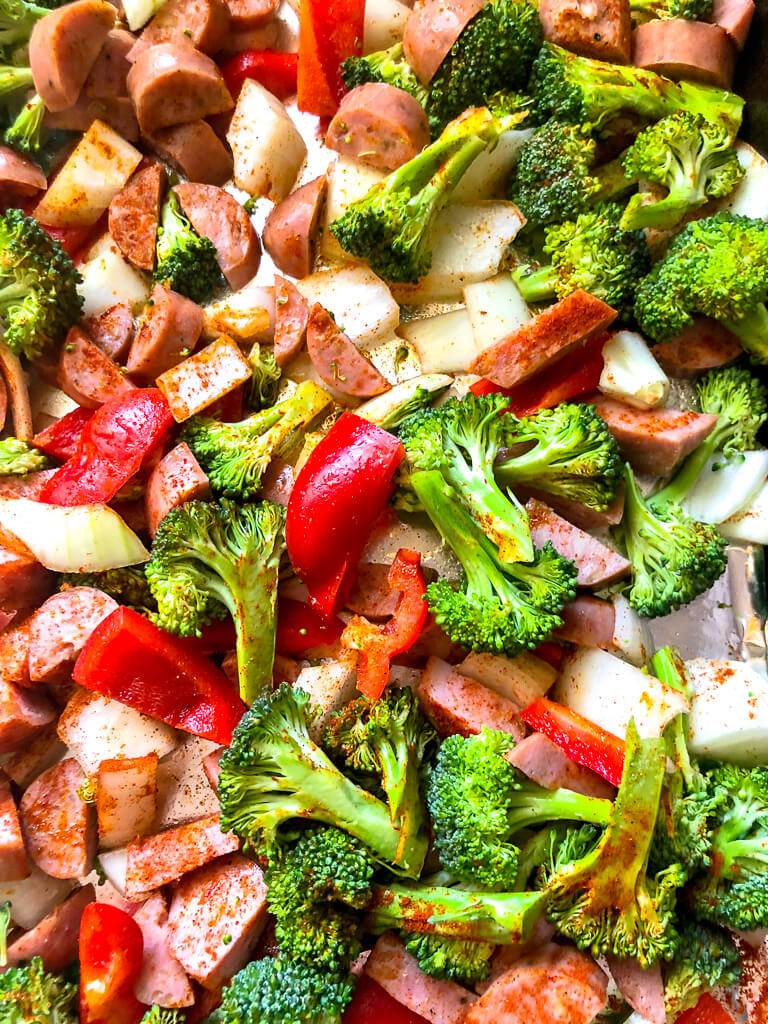 This is one of those BINGO recipes, those recipes that help parents do all the things. I like to pack my kid's lunch while I'm waiting for dinner in the oven when I can. Then I really feel like super mom!
Start by gathering your ingredients. I often grab Aidell's or Aldi's house brand chicken sausage. They are both nitrate free, and in general, have fewer fillers. We do sometimes still eat other brands, but these are my go-to brands at the moment.
Roughly chop your veggies. They don't have to be perfect, but if you can slice everything about the same size it cooks a little more evenly. Lay out a little foil (it makes cleanup quicker, but you can do without) and spray a little pan spray on the pan. Then dump your chicken apple sausage and veggies on to the pan.
Toss with the olive oil and spices, and by now the oven should be ready! Slide dinner in the oven, make a side to go with it if you like (I made some tortellini last time) and before you know it this easy roasted chicken apple sausage is done! Here's the recipe: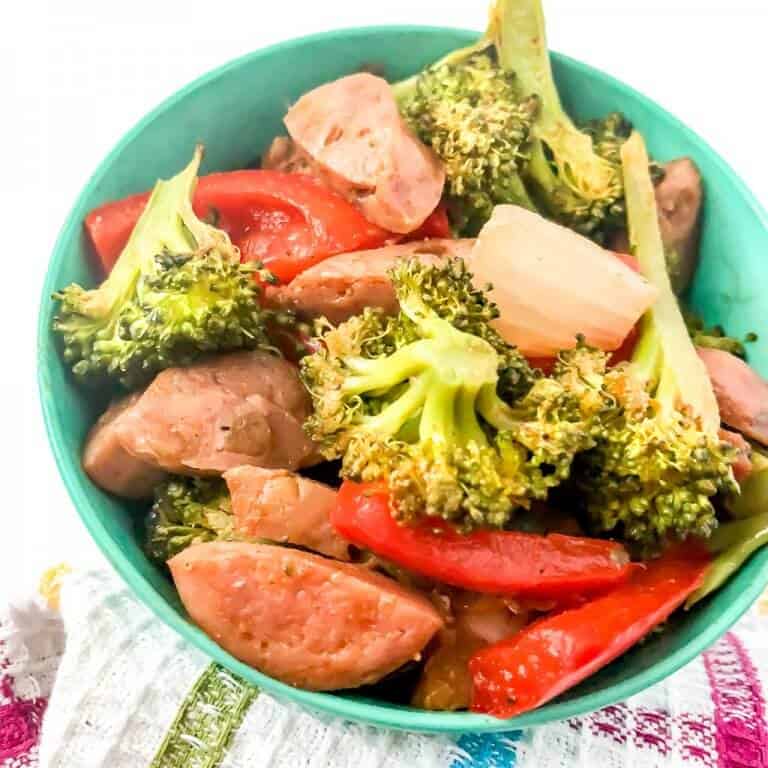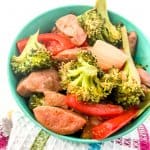 Chicken Sausage And Veggie Recipe
This sheet pan meal of chicken sausage and veggies is perfect for a weeknight meal and comes together quickly. Healthy and easy for any night, you can put this recipe with many different sides for a simper simple dinner kids and the whole family will love.
Ingredients
4

Smoked Chicken Sausages

Raw chicken sausage can be substituted but cooking times may be lengthend

2

heads

Broccoli

approximately two cups chopped

1

medium

Bell Pepper

red, orange or yellow have the best flavor. Green bell peppers can also be used, but may be slightly more bitter.

.5

sweet onion

6

tablespoons

olive oil

1

teaspoon

garlic

powdered or granulated

1

teaspoon

paprika

1

teaspoon

onion powder

1

tablespoon

oregano

1

tablespoon

dried parsley

.5

teaspoon

salt

.5

teaspoon

pepper

pan spray
Instructions
Preheat oven to 425 degrees.

Lay foil on a cookie sheet, and spray with a light layer of pan spray.

Slice chicken sausage and chop all veggies. Place in a single layer on the cookie sheet.

Drizzle olive oil and all spices over top of veggies and chicken sausage. Mix well with hands.

Cook in the oven for 17-22 minutes stirring once halfway through. Veggies will be cooked but still crisp, and sausage will be hot.
Recipe Notes
Other types of smoked sausage can easily be substituted in this recipe. 
Have you ever made a sheet pan meal? I'd love to hear if you make this chicken sausage and veggies recipe in the comments!