*This post may contain affiliate links to products we love. If you purchase something after clicking one of our links we make a small fee. See our affiliate policy here.
What to eat with hummus, it's such a diverse dip or spread! I received this question from another mom who was in a food rut. We all run into different kinds of food ruts, so I thought it might be helpful to list some of the great ways to serve hummus. Hummus makes a great healthy snack and works great in lunch boxes for kids and adults too.
"Hi I just wanted to reach out because I'm in a weird situation with my kids. They love hummus so much (which is great, easy and protein right?) but I feel like we are always eating it with pita bread. What else can I serve it with to mix things up?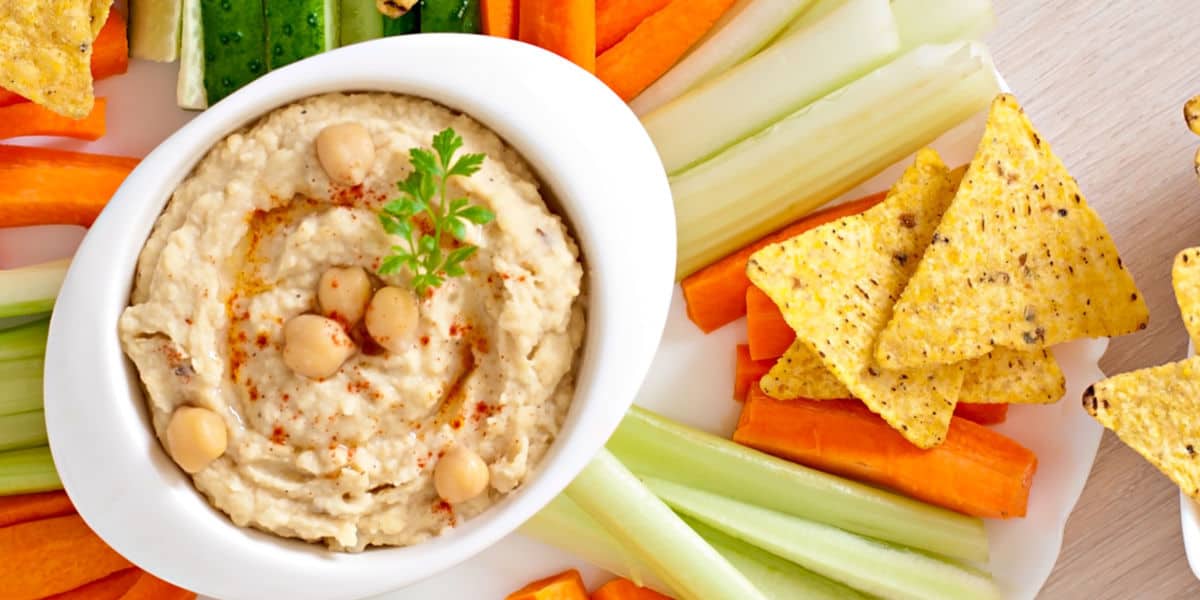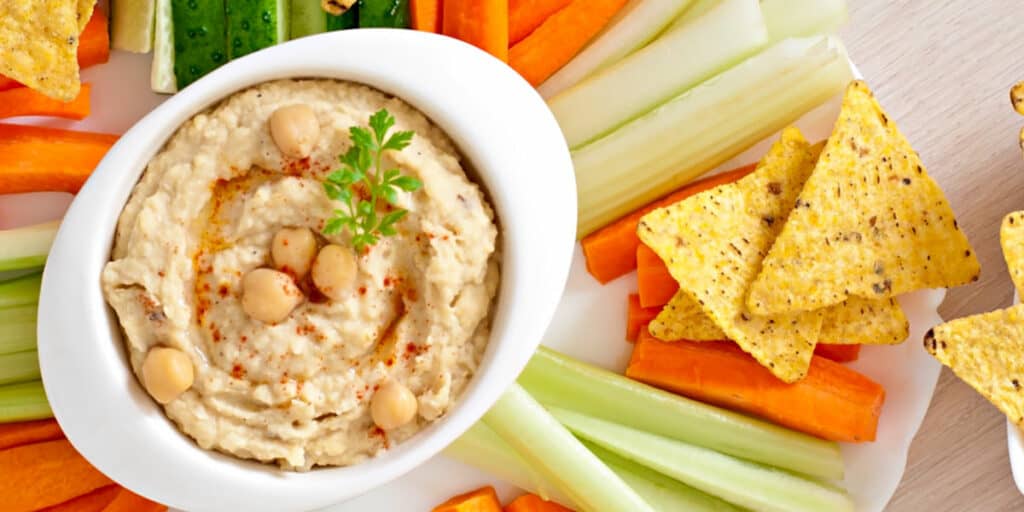 I too have to get creative with what I offer with hummus for the opposite reason, my kid is more interested in the dippers then the hummus. My husband and I are big hummus fans and often grab hummus for lunch or serve hummus at parties because it's easy.
Veggies To Eat With Hummus
Here are some of our favorite veggies to dip in hummus!
Carrots (carrot sticks, rainbow carrots, baby carrots)
Snow Peas
Sugar Snap Peas
Thin Sliced Celery– I've found the thinner the better!
Bell Pepper Slices (we prefer red, yellow or orange because the peppers are sweeter than green or purple bell peppers)
Cherry Or Grape Tomatoes
Cucumber– We like the small baby cucumbers or the long Mediterranean cucumbers best
Broccoli– thinly sliced
Cauliflower -thinly sliced
Radishes– my friend's child likes them thin-sliced to dip
Olives– I recommend starting with kalamata olives with kids or if you are new to olives (they are a little sweeter.) If your grocery store has an olive bar, you can buy just a few at a time to try. Olives are very salty, so you usually only need a few for a snack or meal. Watch for pits, and remove them before giving to children.
Other Crunchy Snacks To Eat With Hummus
Looking for a bit of crunch? Here are some crunchy ideas to eat and dip with your hummus.
Dip pretzels or pretzel sticks (we like these flat pretzels in plain, but also in sesame seed!)
Pita bread This is the classic pairing (I like the mini pita bites found in the deli section to mix it up!)
Dip crunchy bagel chips– I find these in the deli or bakery usually
Try crunchy pita crackers– Also often in the deli or bakery, but also in the cracker aisle
Try other crackers like our favorite sweet potato crackers We also like the red beet crackers too.
Add your favorite tortilla chip– we like these
Have you tried crunchy pea snacks? They come in a bunch of different flavors. We also like this kind too.
Root vegetable chips are also delicious with hummus, we like the original flavor mix but they come in sweet potato and some other flavors too.
Tip: Don't forget hummus is available in a lot of different flavors. Try different ones to see which one your family likes the best. When we first started eating hummus more as a family, we ate roasted red pepper hummus all the time and didn't try many other kinds. Now we eat a little more variety!
Other Ways To Serve Hummus
Hummus can be spread, portioned, rolled, or even can be dessert! Try some of these yummy ways to eat hummus too.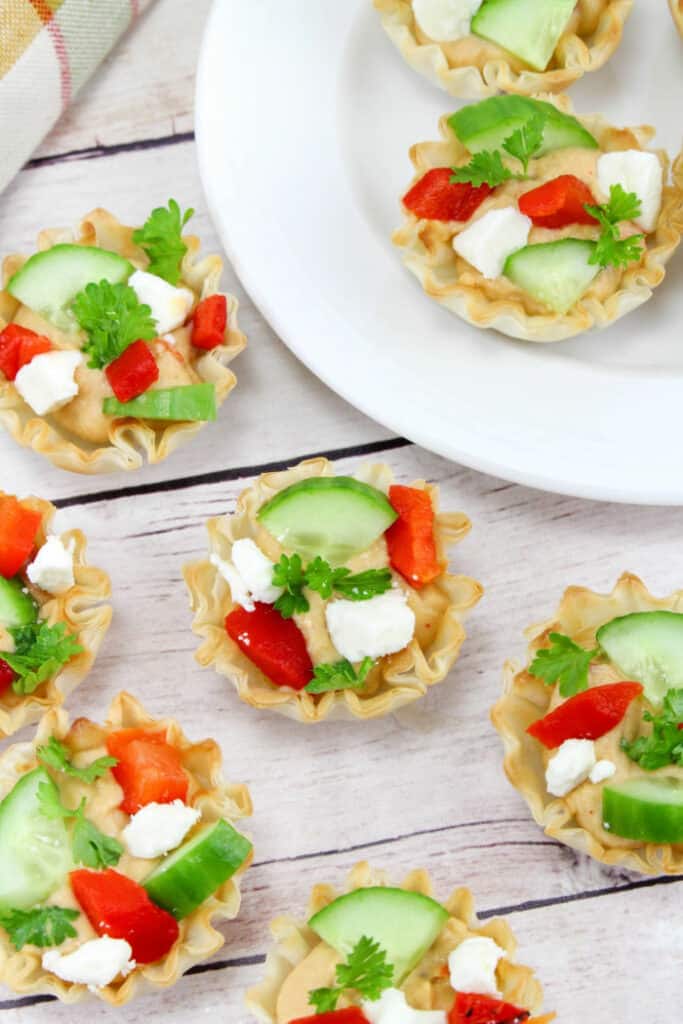 Make our favorite cucumber hummus bite party appetizer!
Add hummus to a party platter (Add any and all mentioned munchies to your platter for your party guests!
Spread hummus on a bagel
Add hummus to a wrap. Spread hummus on a tortilla or pita bread and wrap. Add your favorite veggies
Eat with grilled chicken or chicken kabobs– just add greek seasoning to the chicken! I use a Greek seasoning by Crazy Jane's that they don't make any more (I may cry when it runs out!) I'm trying this greek seasoning next.
Make "power bowls" for dinner by adding hummus, veggies, rice and leftover grilled protein like chicken or steak.
Try it with falafel– We like this mix for an easy dinner. Falafel is also so fast in the air fryer!
Serve open-faced– with diced lightly grilled/cooked zucchini and feta cheese open-faced on a pita, yum! Also diced tomatoes, greens and your favorite vinaigrette.
Try chocolate dessert hummus (I've spotted this at Trader Joe's more than once!)
What do you eat with hummus? Do you have a favorite way to eat hummus in your house? Share it with us in the comments!
Have your own question about kids, meals or cooking? Struggling with picky eating, what to try next with your kid, or just what to make for dinner? Email me at [email protected] gmail.com and I may answer your question in a post too!
Other Ideas You Will Love
9+ Healthy School Lunch Ideas For Kids– More ideas of what to pack in lunch and snack boxes
Sweet Broccoli Apple Pasta Salad– This recipe makes a great cold lunch
Chicken Mango Fresh Spring Rolls– Another yummy cold lunch, great for with leftover grilled chicken or for a party
This Container System Changed Everything With My Picky Eater