Oh say do you say it's time for a Dr. Suess snack! It always brings a smile to my face when I see so many children celebrate Dr. Seuss's birthday, as the books and characters are so amazing for helping kids learn! I threw together a little snack that is funny, easy and a totally Seussical way to celebrate all the magic of Dr. Seuss.
Cat In The Hat Dr. Seuss Snack
So when I first started throwing together this snack, I was looking at the different characters and I knew I wanted to make the Cat in the Hat. The sequel, The Cat In The Hat Comes Back is actually one of my favorite books, though Green Eggs and Ham is another favorite. I'm a sucker for a good sequel. But this post is more about the party you're planning on having, or the smile you want to bring to your kid's face when they see this snack!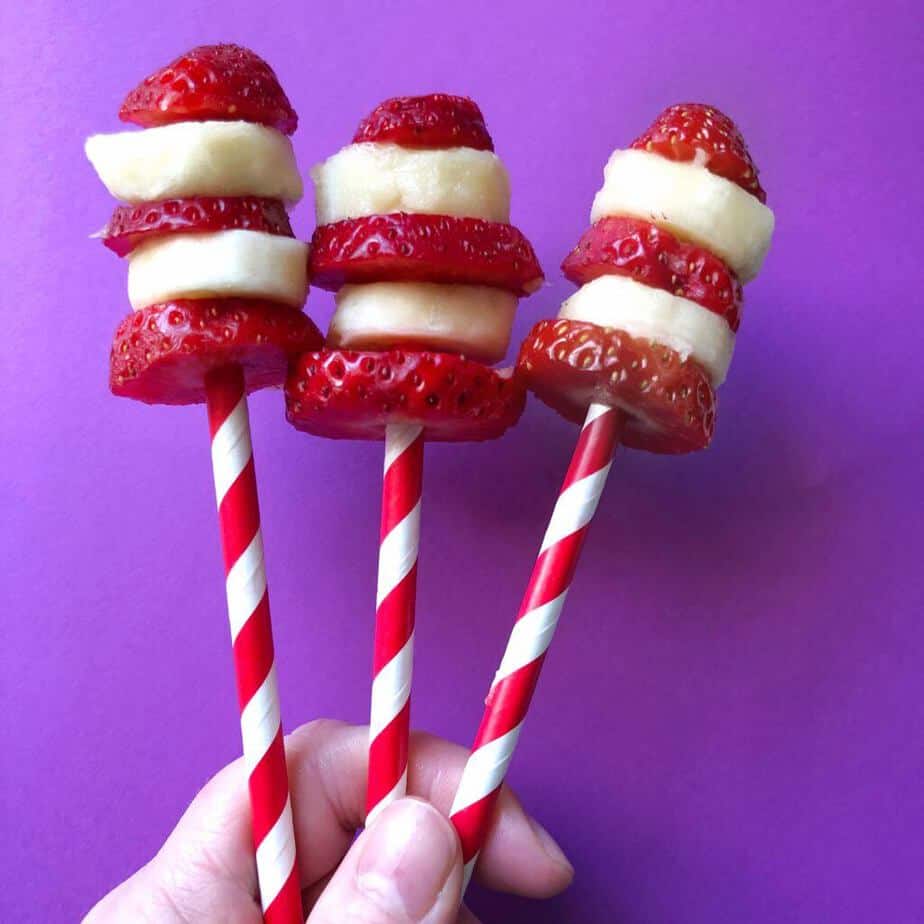 Anywho lots of kids love The Cat In The Hat, making it the perfect time to get the excited even more with a fun snack. This snack is pretty healthy, easy and kids will gobble them up. Make these fun Cat In The Hat hats for a birthday party, a classroom treat or just to round out a cozy afternoon cracking a good book.
Related: Peanutbutter Strawberry Banana Owl Snack
Start by slicing up your strawberries and bananas.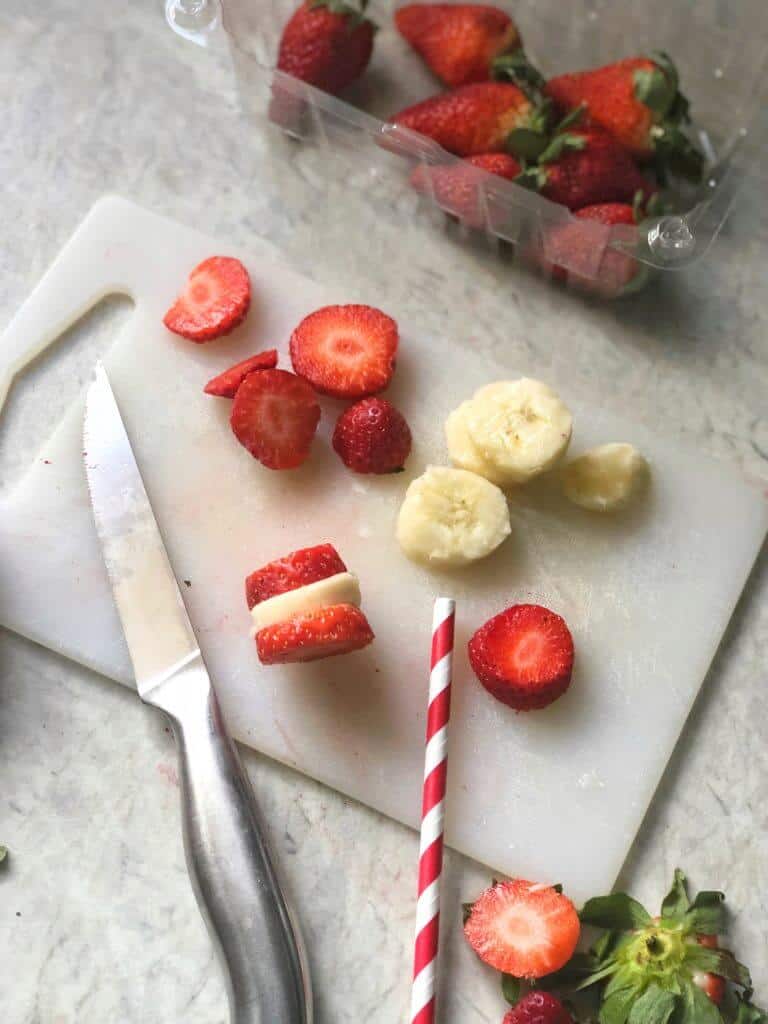 Then get to stacking the bananas and strawberries. Kids can even help you stack!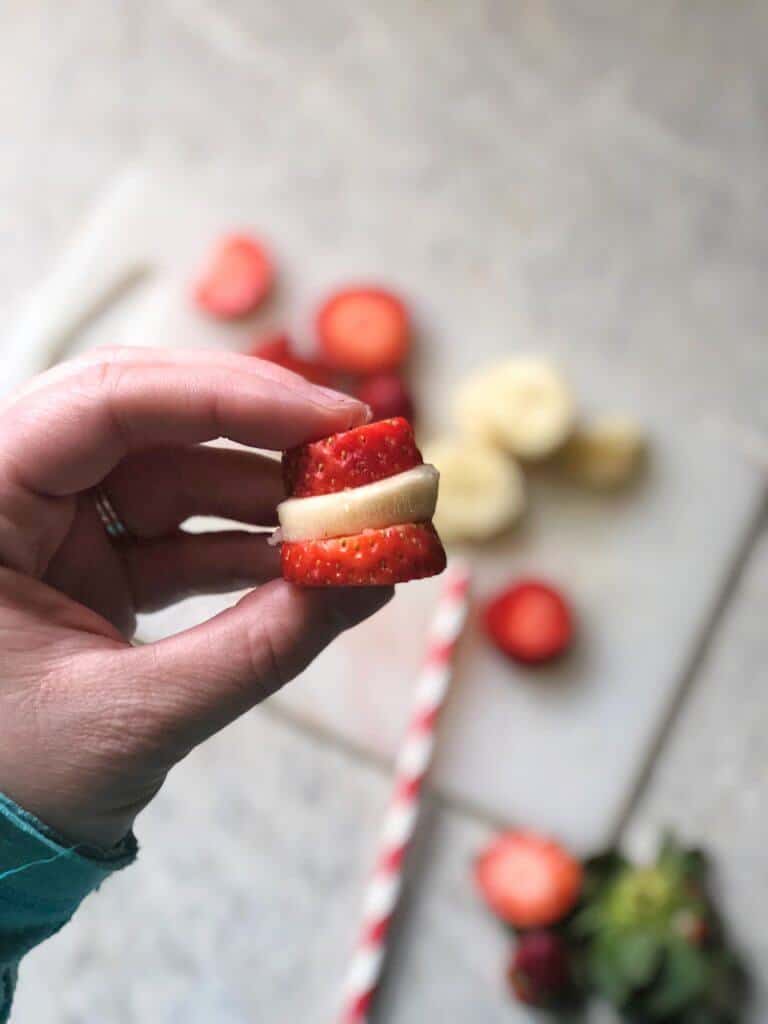 It's that easy guys. Then all you have to do is slide those slices onto a skewer or fun straw. I opted for a fun colored straw this time.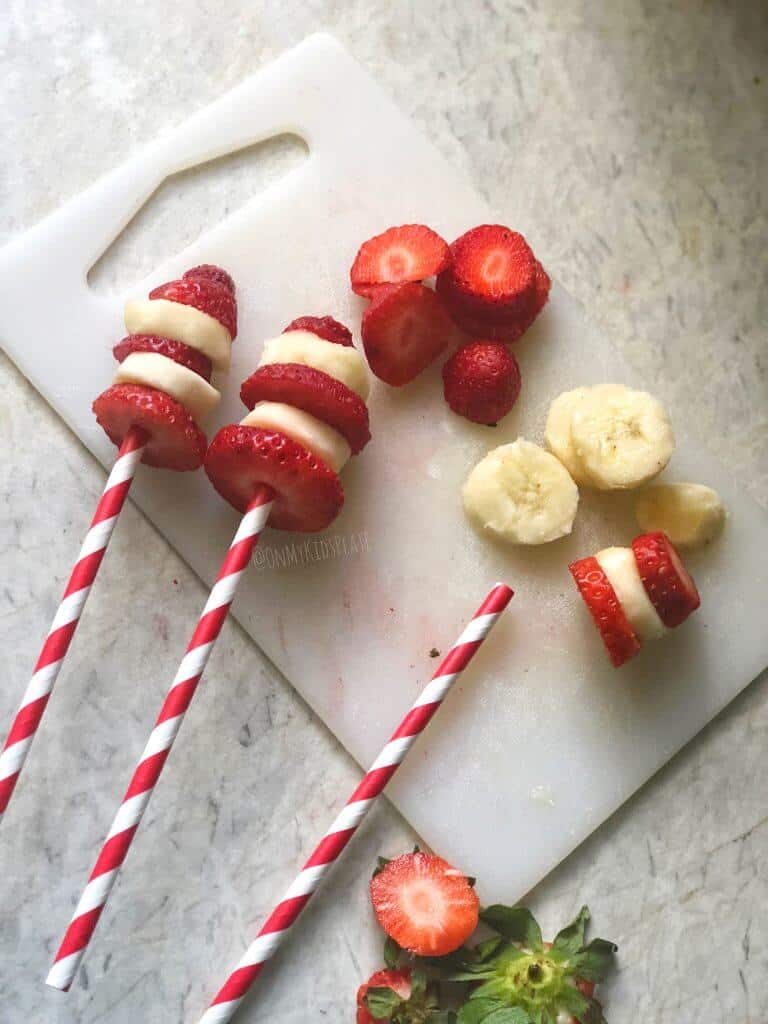 These are great for picky eaters too. Most kids will gobble up this fun Dr. Seuss snack. It's a great one for schools, no green egg making required! You can also make the skeweres a little smaller and add them to a lunchbox, no muss and very little fuss!
Now you still have time to read a good Dr. Suess book with your kid! If you have older kids, or just want to get a little fancier you could add a face too! I don't recommend doing a whole party platter full of these, but a couple to make your kid smile is easy peasy. I just added some sprinkles and candy eyes, plus an extra piece of banana for the face. The black nose in the center is a sprinkle I grabbed from some leftover Halloween sprinkles I had laying around.
I probably wouldn't attempt to have a young toddler add the faces to this, snack but they can certainly help add the hat to the kabobs on these fun Cat in the Hat snacks. We had a lot of fun adding the sprinkles. It can really just put a little extra light behind your kid's eyes when they see a beloved friend almost come to life in front of them!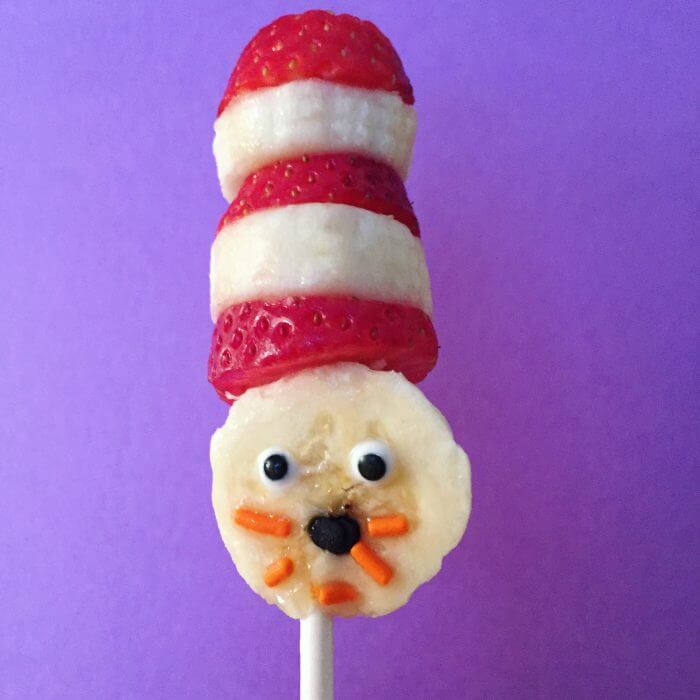 It's a snack and activity if you have the kids help! Here's what you need!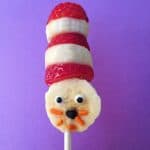 Dr. Seuss Snack For Kids
Ingredients
8-10

Strawberries

2

Bananas

8-10

Paper Strawsor Skewers

candy eyes

optional

sprinkles

optional
Instructions
Slice strawberries and bananas into rounds.

Alternate strawberries and bananas, making a multicolor stack.

Add strawberry and banana stack to paper straws.

*Optional- add an extra slice of banana threaded the opposite direction as the head. Decorate face with sprinkles and candy eyes.

Eat and enjoy, super mom!
Recipe Notes
This Dr. Seuss snack easily scales down if you are making it for only a few children, or scales up if you are making kabobs for a party!
Also had to leave you with a favorite Dr. Seuss quote, which will especially pull at  your heart if you have or work with young kids. It melts me every time!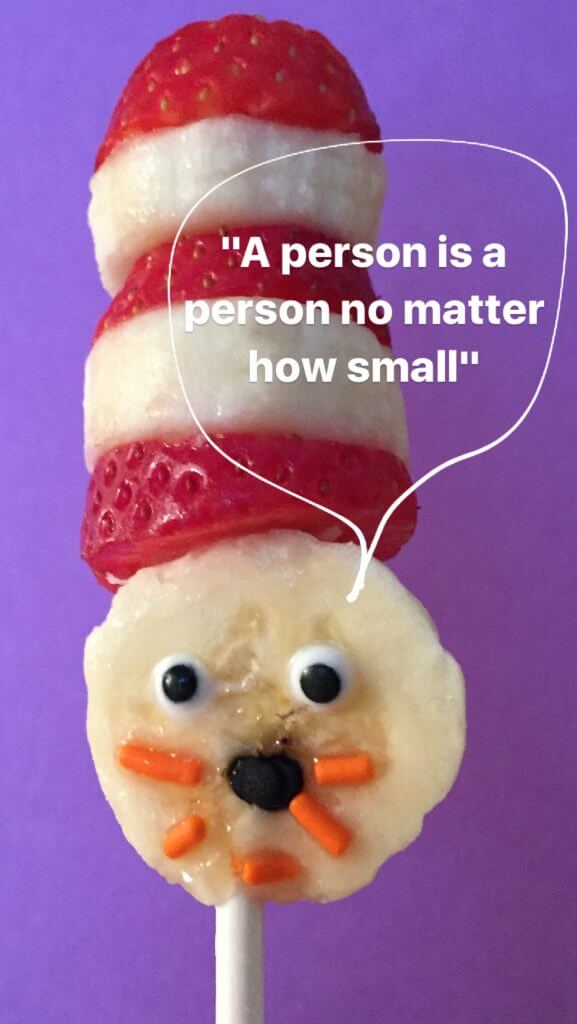 So do you celebrate Read Across America and Dr. Seuss's birthday with your kids? Which of these Dr. Seuss snack kabobs would you give a try?