Juicy and easy, this recipe will teach you how to cook pork loin in the crock pot that is a hit with the whole family. This recipe makes a sizeable amount for dinner and is super simple to throw in your slow cooker with just a few ingredients. Prep your juicy pork loin roast and come home to dinner ready to go with this slow cooker recipe.
How To Cook Amazing Pork Loin In The Crock Pot Every Time
*This post was originally sponsored by the Ohio Pork Council, but all opinions are my own.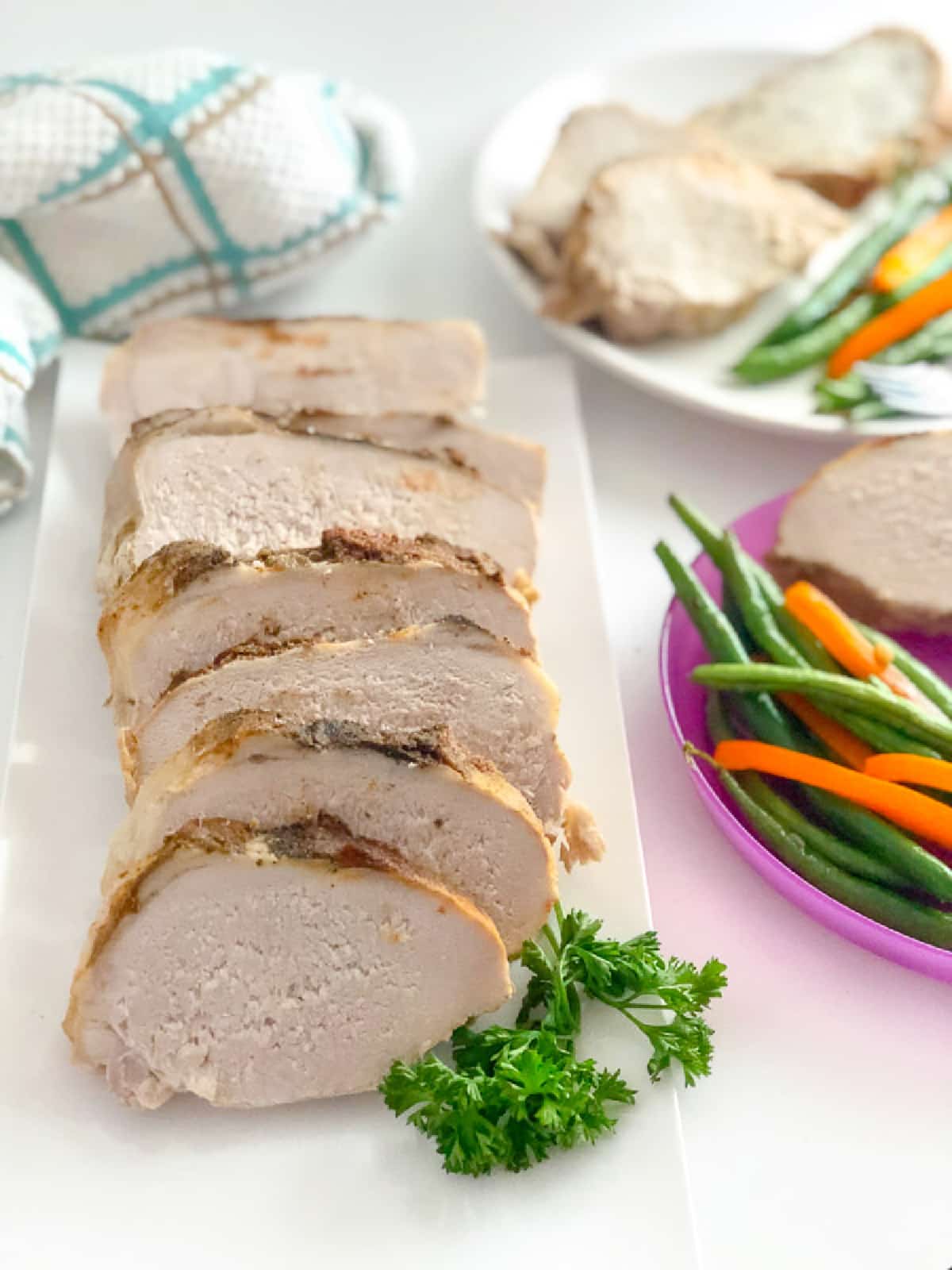 Don't lose this recipe! Enter your email below and we will email this recipe to you, plus more yummy recipes weekly.
Delicious Pork Loin In The Crock Pot Is Perfect For Dinner
When it came to cooking a large roast such as this pork loin, most of my food memories come from when I would meet up with my Italian extended family as a kid. I remember my Great Aunt pulling out all the stops when we were there for a Sunday dinner. It didn't happen often as they didn't live close, but those visits sure made an impression.
I'm not sure if she made these gigantic feasts just because we were there, or if every Sunday was a giant feast, but man were they delicious. I think they always thought I was just playing, but secretly I was watching every move they made in the kitchen.
One of my favorite feasts other than pasta (Italian blood!) was when she made juicy pork loin roast in the crock pot, fresh garden green beans, and fresh bread picked up from the bakery made that day. The whole family ran to the table to dive in.
What I didn't realize when I didn't know how to make pork loin in the crock pot, is that it is so simple you don't have to wait until Sunday.
Pork loin prepped ahead in your slow cooker makes a great recipe to go all day so you come home to the smell of dinner almost completely done.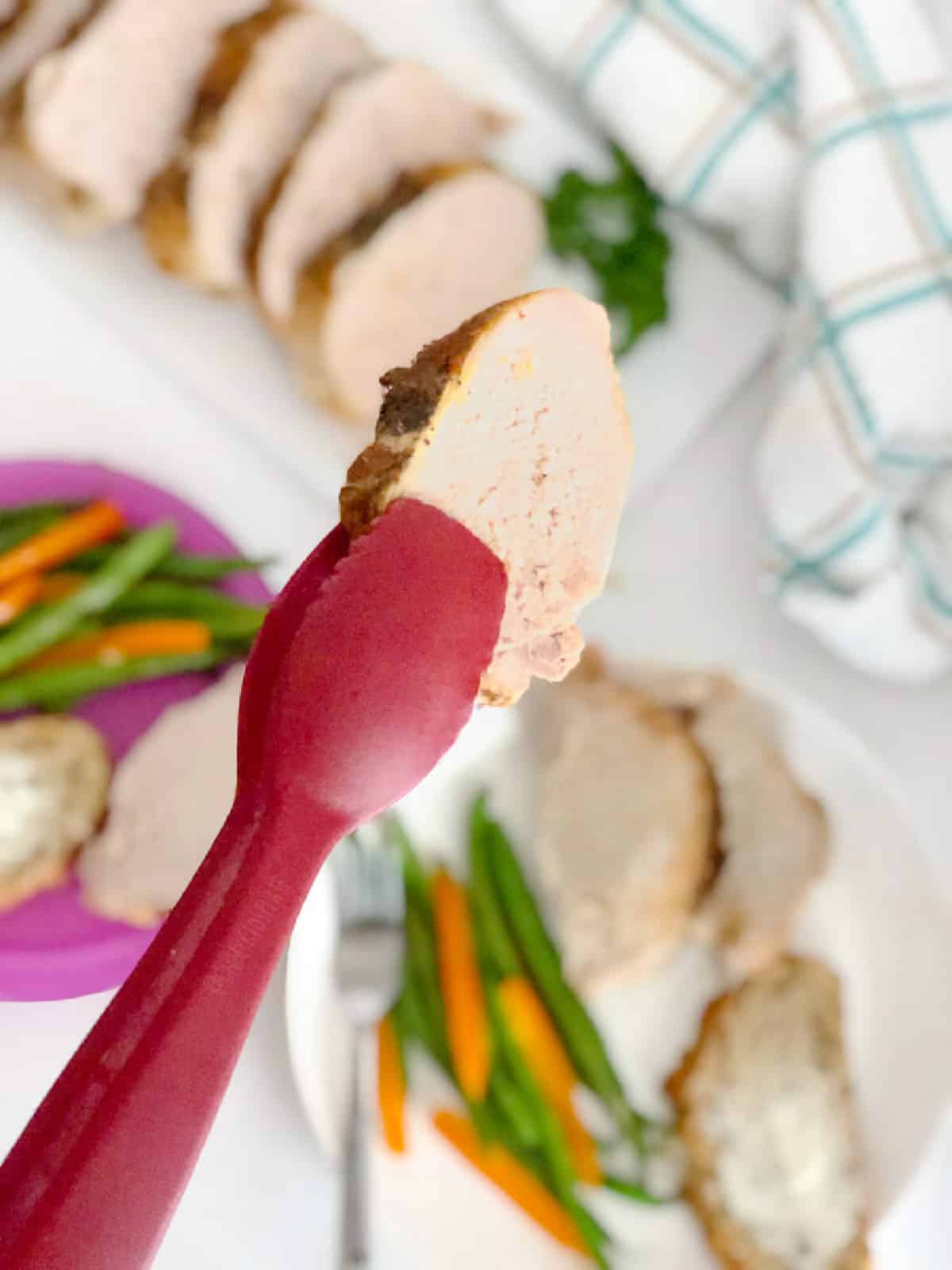 How To Make Absolutely Amazing Pork Loin In The Crock Pot
Start off by picking up a pork loin at the store or butcher. I prefer boneless for this meal as it is fast and delicious without tons of prep.
Add your cooking spray and onions to the crockpot before you add your cut of meat with the fat side up. Then coat your pork in spices, add some broth and close the lid.
When you come back you want to make sure you check your meat with a meat thermometer that it is cooked to 145 degrees, that's when you know it is done for sure. If it finishes earlier than you expect, you can always switch your crock pot to the warm setting.
What's The Difference Between A Pork Tenderloin And A Pork Loin
These are two different cuts of pork and both are super flavorful pieces of pork for your roast but they work a little differently. Pork loins are wide cuts of meat, large enough you can cut a full slice from it similar to a steak. Pork Loin is a sold both with and without bones.
Pork tenderloin is smaller and thinner, and when cut makes more of a medallion size, and is always boneless. Pork tenderloins generally are one to two pounds, and most pork loins in the stores are two to five pounds.
Pork Loins generally lend themselves to a slow cooker recipes or roasting for a longer period of time, while pork tenderloin can be quickly cooked over higher heat.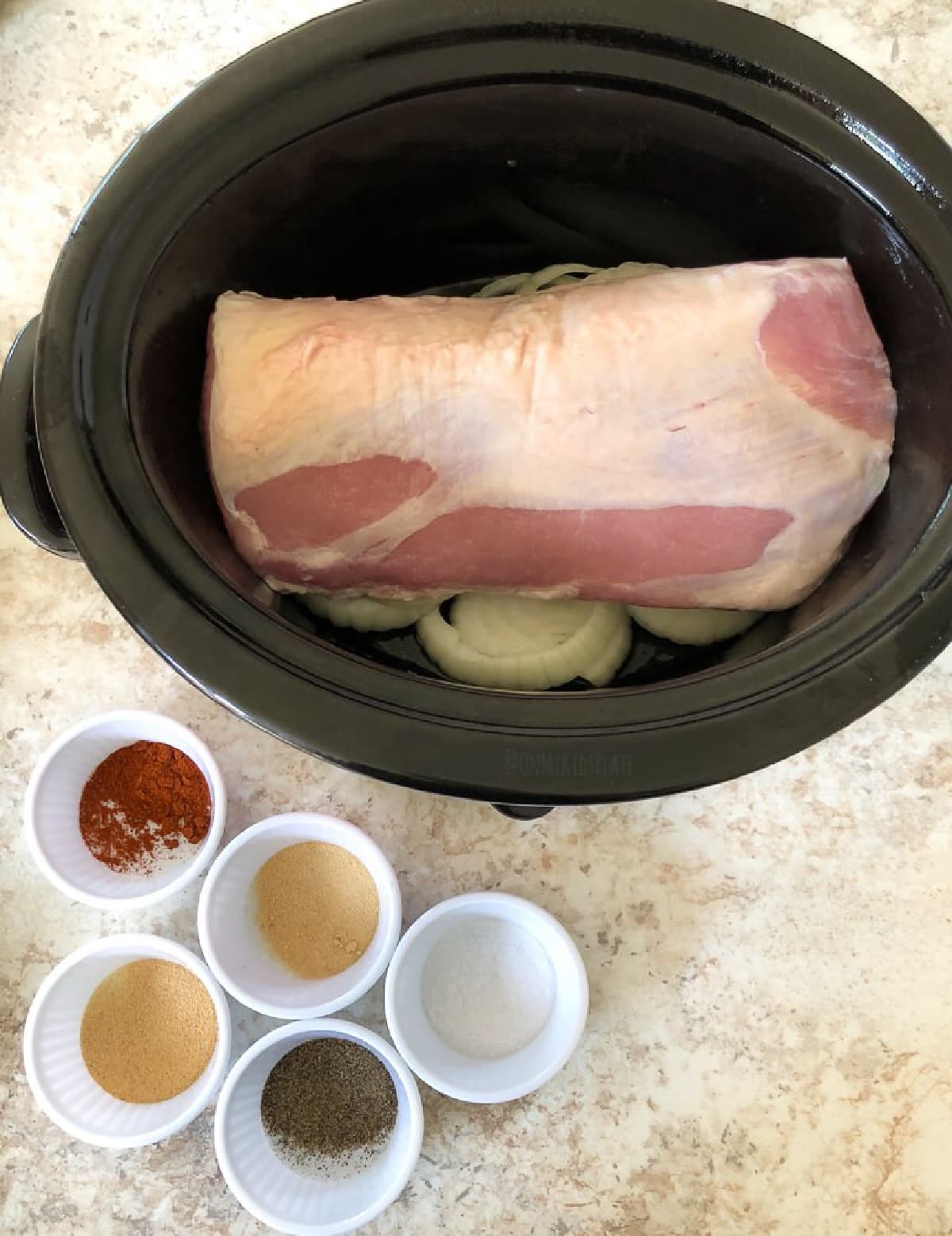 My Kid Is A Picky Eater, Will They Like Pork Loin In The Crock Pot
All kids are different and for some kids, it takes a while to try new foods. Pork loin in the crockpot is lean and a soft meat dish though, which lends itself to kids liking this recipe.
It easily can be sliced into bite-sized pieces, or shredded which makes it fairly easy to chew for even toddlers and preschoolers.
You can also take leftovers and shred with some bbq sauce for an easy quick sandwich for kids (or you know, the whole family!), and it's also great with roasted potatoe wedges or mashed potatoes.
How Long To Cook Pork Loin In The Crock Pot
How long you cook your pork loin roast in the crock pot can vary depending on both the size of your pork loin and the age of your crock pot. Most pork loins vary between three to five pounds, and that can affect cooking time.
A four-pound boneless pork loin is usually done in about six hours when cooked on low. To make sure your roast pork loin is cooked to perfection, use a meat thermometer. The inside of the meat should register at a temperature of 145.
You can leave your meat on the warm setting for a little while after it is finished cooking, the pan liquid will help keep it from drying out.
Psst, you should also check out my Instant Pot Pork Carnitas. They are packed with flavor, moist and delicious just like this pork loin! Add it to your dinner list for Taco Tuesday to make tacos, burritos, nachos or bowls with rice.
Can I Put Frozen Pork Loin In The Crock Pot?
You can put frozen pork loin in the crock pot and it will be delicious! To cook a frozen pork loin in the crock pot first season your meat just as you would if it was fresh. Allow the frozen pork loin to cook in the slow cooker for four hours on high or eight hours on low.
Check your meat to make sure the internal temperature reaches 145 degrees. Your final cook time may vary depending on the size of your pork loin. This timing is based on a frozen five-pound pork loin.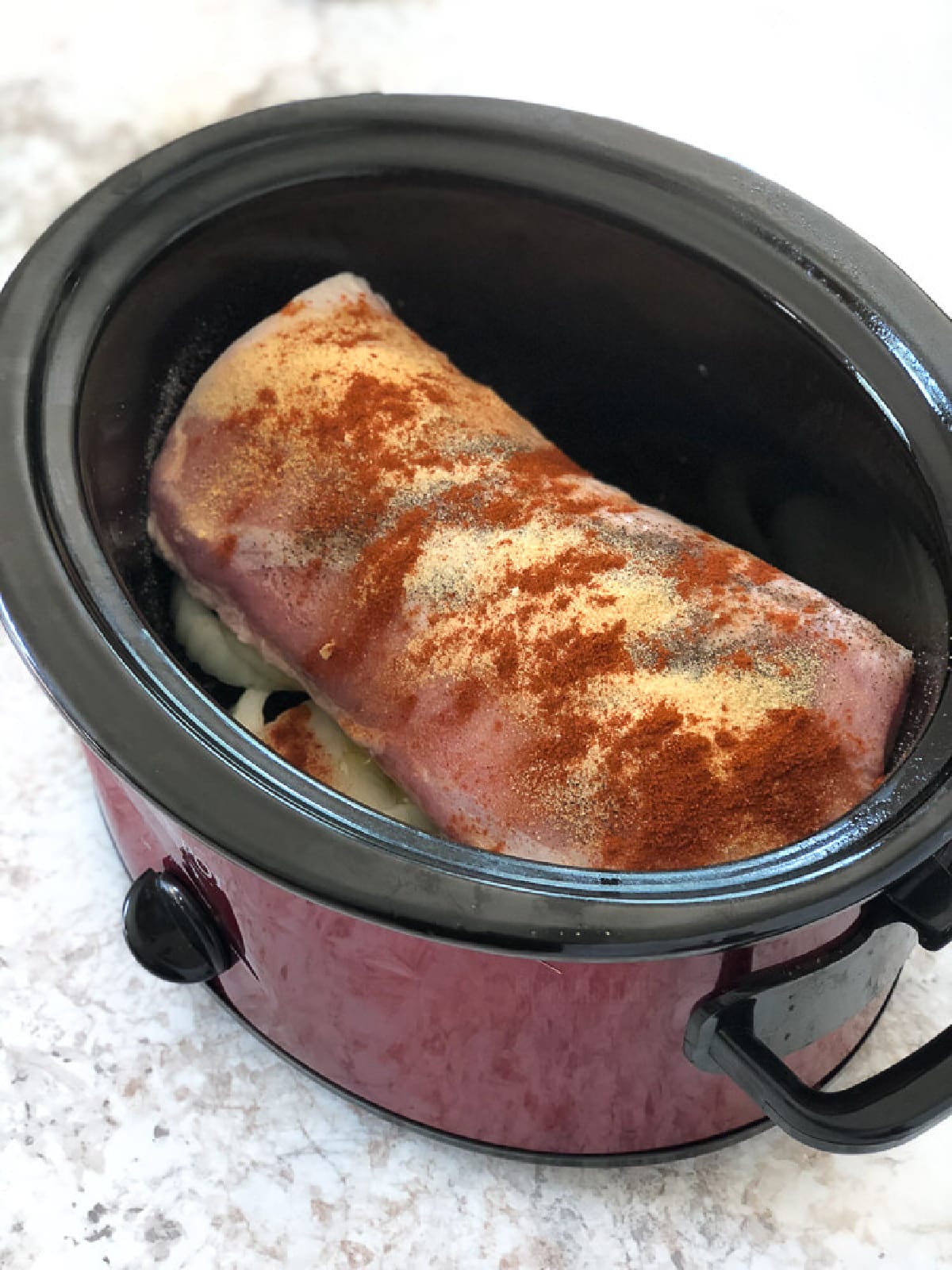 What Size Slow Cooker Should I Use?
I've edited this section as I've received a few emails from people having varying success with different size crockpots. I recommend a 4, 5 or 6-quart crockpot. It holds the right amount of liquid to meat ratio. Crockpots cook best if they are at least 3/4 full so you may want to adjust based on your machine and how big your meat is.
If you choose to cook it in a smaller crockpot (and I really only recommend this for a pork loin closer to 3 pounds) you may have to adjust the liquid in your pot down and check your meat sooner. A smaller crockpot sometimes means it cooks quicker because it's fuller, so check carefully.
If you choose a bigger crockpot, adding a little more liquid is a good idea. A bigger crockpot can also work well if you decide to add extra vegetables (like carrots or potatoes) to the bottom of the crockpot.
Why The Onions?
By putting a layer of onions on the bottom of the crock pot, not only do you add flavor but it helps keep the meat from sticking to the crock pot. Win-win! This helps even more if you switch your crockpot to the warm setting after it's finished cooking.
Do You Cook A Pork Loin Fat Side Up Or Down
Most people recommend cooking a pork loin fat side up. This ensures as the fat renders, it drips down the meat and adds flavor. You can also trim the fat before cooking the meat, but it will lose some flavor.
Pork Loin tends to be a fairly lean cut of meat, I recommend trimming any fat after cooking your roast.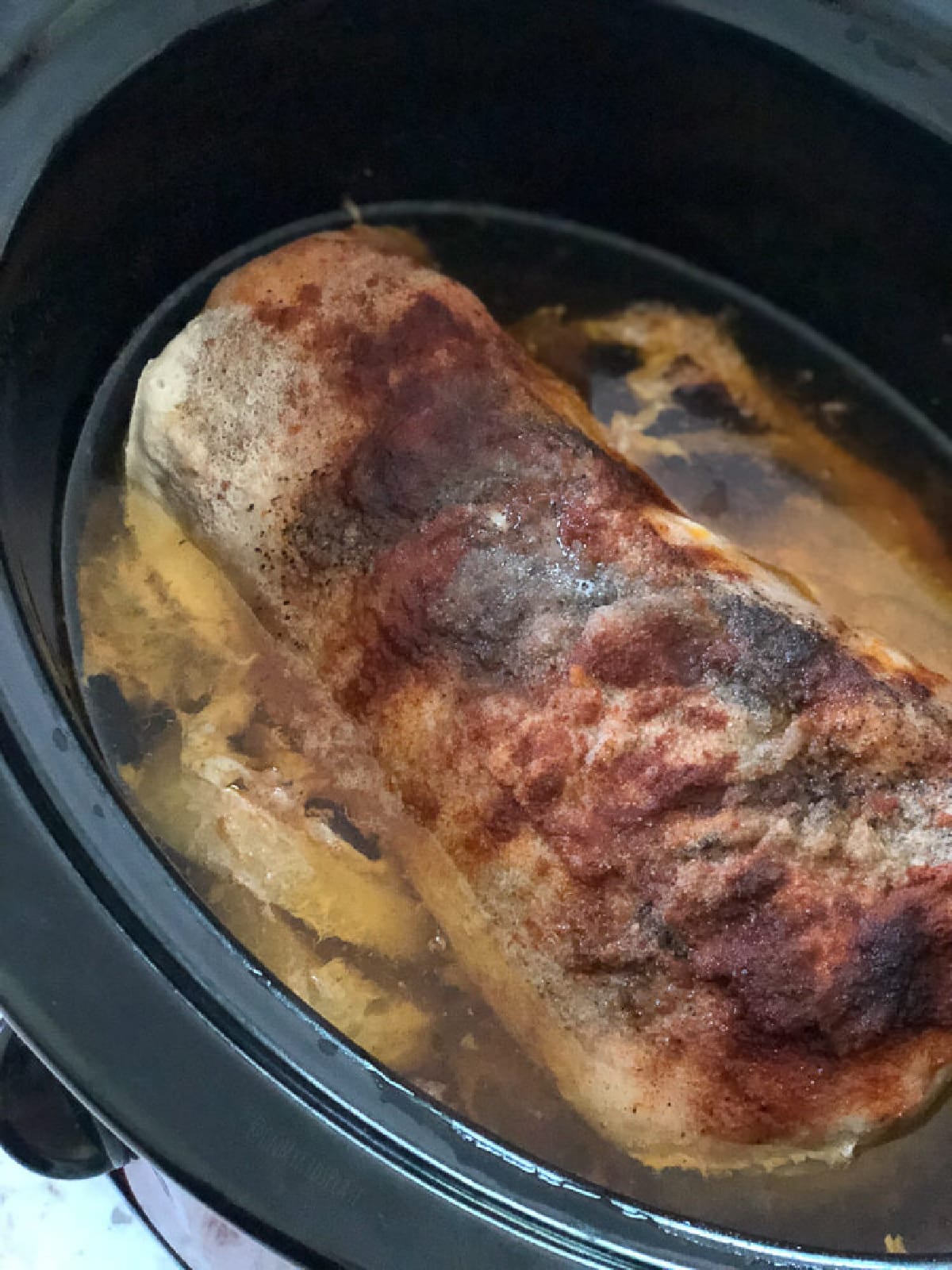 Do You Need To Brown A Pork Loin Before Cooking It In The Crock Pot
Browning a pork loin before cooking your recipe adds lots of flavor to your meat, and is a great way to give your finished meat more depth of flavor. For busy parents like me though, it's not mandatory to make sure your pork loin is flavorful.
I generally skip browning a pork loin because the cut of meat is large and I'm often in a hurry, but you can absolutely brown it before you cook it in the slow cooker if you choose.
Use the pan drippings from inside the crock pot and create a delicious pork gravy in ten minutes or less for your dinner.
Can Pork Loin Be Used For Pulled Pork?
You can use pork loin for pulled pork but it will make a large amount of pulled pork if you shred all three to five pounds! I use the estimate that one pound of pork will feed three people shredded. If I shred pork loin for pulled pork I'll usually do this with the leftovers after eating one meal as boneless pork chops like above.
To make pulled pork from your cooked pork loin cook your meat then remove the pork and the cooking juices from the crockpot. On a cutting board using two forks, shred the meat.
Put your meat back in the crockpot. Add roughly a half cup of either pan drippings OR broth for every cup of meat and a half cup of BBQ sauce for every pound of meat.
Allow the shredded pork to cook on high in the slow cooker on high for a minimum 30 minutes or until bubbly and juicy.
Can I Add Potatoes Or Other Vegetables To My Crock Pot Roast Pork Loin?
You can add potatoes, carrots and even celery to the bottom of the crock pot with your pork line. We like yukon potatoes or red potatoes.
When adding potatoes, or other vegetables to the bottom of the crock pot I recommend adding an additional half cup of broth to make sure there is enough liquid in your crock pot.
When you cut your vegetables I like to leave them in large chunks as they will be in the crock pot for a while. I like to cut my potatoes and carrots down to the size of about half a golf ball but pieces that are a little larger are fine too. Keep your vegetable pieces all about the same size so they cook evenly.
I recommend removing the cooked vegetables from the slow cooker first before adding BBQ sauce if you are turning part of your pork loin into pulled pork. Simply keep the vegetables covered and warm until dinner.
Do You Put Meat Or Vegetables In The Crock Pot First?
The best way to cook additional vegtables such as potatoes and carrots is to put them under your meat with the onions. When the pork cooks it will drip down.
If you put your potatoes or carrots on the sides of the pork loin, they will still be tasty and delicious. I try to avoid having the vegetables all on top of the pork loin as they don't always cook as evenly then. You also don't benefit from the pork dripping down on top of the vegetables which adds flavor.
What Other Sides Should I Cook With Pork Loin?
Cooking a pork loin in the crock pot couldn't be easier, and your family will love this for dinner. We serve it up as slices of pork alongside quickly roasted vegetables or a nice green salad. Corn, roasted potato wedges or mashed potatoes, cornbread muffins or rice also work nicely as a side. Sometimes we also serve this crock pork loin recipe with homemade gravy.
I like to sometimes make a larger pork loin so we have plenty of leftovers. These can be eaten as is of course, but also can be added to rice or even stir-fry. You can also shred part of the meat and add BBQ sauce to make pulled pork with the leftovers.
HELP My Meat Cooked Really Fast/Turned Out Dry, What Happened?
Crockpots do vary from model to model, unfortunately I can't account for every variation in equipment. Some of the new models have a venting slit that can affect cooking time. Some of the models also just cook hotter, which I know can be super frustrating.
To avoid this, any time you cook a new recipe I recommend checking it a little early. I usually start checking around 4 hours for a large chunk of meat like this recipe.
Some crockpots also have a built-in thermometer that can help you to check the temperature which is nice because you can check without opening the crockpot. But if your crockpot doesn't have that feature, just check your meat with a meat thermometer as quick as you can to avoid lowering the temperature in the crockpot too much.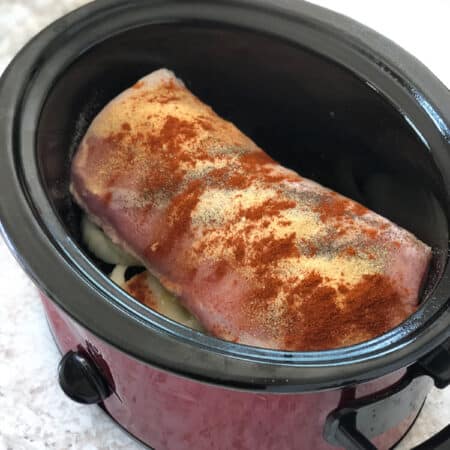 Super Simple Boneless Pork Loin In The Crockpot Recipe
This super simple boneless pork loin recipe goes into the crockpot and comes out juicy, moist and delicious every time. Serve this lean meat with roasted vegetables for a delicious dinner for the whole family that kids will love too.
Ingredients
3-4 Pounds boneless pork loin
1 large onion I prefer sweet onion or Vidalia
2 tablespoons olive oil
1 teaspoon granulated garlic
1 teaspoon onion powder
1 teaspoon black pepper
1 teaspoon salt
½ teaspoon paprika
2 cups broth I prefer chicken broth but any broth works.
cooking spray
Instructions
Spray the bottom and sides of your crock pot with cooking spray.

Slice your onion into round circle slices.

Lay your pork loin on top of the onions, fat side up.

Drizzle olive oil over the top of the pork loin.

Sprinkle garlic, onion powder, black pepper, salt and paprika over pork loin. Give it a quick rub to ensure that the spices are distributed evenly.

Add two cups of broth to the bottom of the crock pot.

Close and cook the pork loin in your crock pot on LOW for 6 hours or on HIGH for four hours. Your meat should register at an internal temperature of 145 with a meat thermometer. .
Notes
I make this recipe in a four-quart crockpot that I was gifted (thanks little bro). You could make this recipe in a four, five or six-quart crockpot but see my notes in the article.
If this is the first time you've made this recipe, I recommend checking your meat at four hours regardless of the temperature as sometimes crockpot temperatures can vary which can cause some to cook faster than others. Here are some great slow cooker tips if you think your slow cooker may not be cooking correctly. You can also test your slow cooker first if you think it may run too hot.
Remember pork loin (different from pork tenderloin, see above for more info) is a large piece of meat that is best cooked low and slow. This helps to render the fat in the meat so it becomes tender. Not cooking the meat long enough can sometimes produce meat that "seems dry" but it actually just that the meat itself hasn't cooked long enough to become tender. This means just because your meat hits the safe temperature, doesn't necessarily mean it is finished cooking to become tender. Unfortunately, I can not account for every single person's individual slow cooker and weight of meat to tell you exactly when your meat will be done. Using these tips consistently produces a delicious pork loin for most slow cookers.
See notes in the article of how to turn this recipe (or the leftovers) into pulled pork, and how to add extra vegetables in the crockpot when making this recipe
Nutrition
Serving: 1servings | Calories: 274kcal | Carbohydrates: 5g | Protein: 39g | Fat: 10g | Saturated Fat: 3g | Cholesterol: 107mg | Sodium: 613mg | Potassium: 696mg | Fiber: 1g | Sugar: 3g | Vitamin A: 137IU | Vitamin C: 2mg | Calcium: 19mg | Iron: 1mg
Did You Make This?
I would love to see it! Share your thoughts with me in the comments below!
Other Recipes You Will Love
Instant Pot Pork Tenderloin With Honey Balsamic Glaze
Quick Roasted Chicken Apple Sausage With Veggies
Oven Baked Pork And Zucchini Meatballs
20+ Healthy Ground Turkey Recipes For Dinner
Have a question about how to make pork loin in the crock pot recipe? Leave your questions, or just tell me how much you loved the recipe in the comments!